Cornerback Aqib Talib played with restrictions last week, as he was on the field for only the first half of the contest — 26 snaps.
But on Thursday, head coach Sean McVay said Talib should be without restrictions for Sunday's game against the Bears.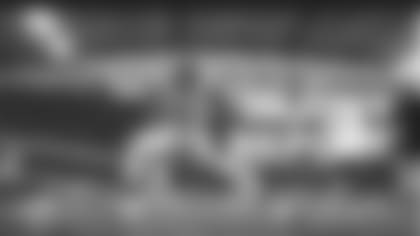 "He's good. We'll hopefully not have to have him on any sort of pitch count at all this week," McVay said. "That was kind of the goal all along — especially playing on the turf [in Detroit]. It sounds like the field's been in good condition in Chicago, too, from what I understand. And unless something sets us back, he's going to be at full go, and go from the start to the finish."
L.A. allowed only 108 total yards to Detroit last week in that first half. And defensive coordinator Wade Phillips said Talib had a clear effect on the unit when he was in the game.
"He played the first half, they had three points the first half. So he was a part of that," Phillips said. "But I thought he moved around nice. We're expecting probably more from him this week — more plays, I'm talking about. And as long as he's good to go, we're going to let him play."
Talib himself said he feels a lot better this week than he did following Thursday's practice in Week 13.
"I think that play count was just to get my legs under me," Talib said of his restrictions from Week 13. "You don't want to go from one or two practices to 70 plays. So now I'm 30 plays, five, six practices — I think I'm ready to go."
Talib has not been listed on Los Angeles' injury report this week, a good sign for the way he's recovered after his first game action since Week 3. The cornerback's teammates noted how even in just a half, they could feel his presence on the field.
"I definitely felt it last week," defensive tackle Aaron Donald said. "You definitely felt a little more comfortable, too, having a veteran guy like that who's experienced and a big-time playmaker like he is. So it's definitely good to have him back."
Elsewhere on Los Angeles' injury report, cornerback Marcus Peters remained a full participant for Thursday's session, though he was listed with an ankle injury.
For Chicago, starting quarterback Mitchell Trubisky was once again a full participant in practice — another indication that he'll be ready to go for Sunday. And that's what Phillips is preparing for.
"Yeah, we do," Phillips confirmed. "Obviously, he's a good young quarterback who can throw the ball, But he's also got [363] yards rushing. So he gives you a double threat."
Below is the full Thursday injury report for both teams.
RB Malcolm Brown (shoulder)
C John Sullivan (not injury related)
LT Andrew Whitworth (not injury related)
RB Benny Cunningham (ankle)
DB Sherrick McManis (hamstring)
QB Mitchell Trubisky (right shoulder)