Los Angeles' second injury report of the week did not change much from its first. 
Inside linebacker Mark Barron (ankle) and wide receiver Mike Thomas (hip) did not participate. Head coach Sean McVay has said Barron's situation remains day-to-day. And on Thursday, defensive coordinator Wade Phillips said it's hard to tell when Barron may be back.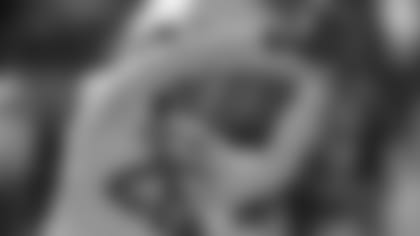 "They're working with him. Our athletic trainers do a great job.," Phillips said. "He'll get better with them working with him for sure." 
If Barron is unable to play, Ramik Wilson would likely start in his place at inside linebacker. In Monday's game against Oakland, Wilson and safety Marqui Christian essentially split time at the spot — with Christian coming in for more known-passing situations. Wilson played 44 percent of snaps and Christian played 56 percent.
Running back Todd Gurley — who was estimated to have received a rest day on Wednesday — was back as a full participant in Thursday's practice. 
Below is the full Thursday injury report for both teams.
RB Todd Gurley (not injury related)
TE Jermaine Gresham (achilles) 
LB Haason Reddick (ankle) 
QB Sam Bradford (not injury related) 
WR Larry Fitzgerald (not injury related) 
DT Robert Nkemdiche (foot) 
OL Korey Cunningham (thumb)