According to the Pro Football Hall of Fame, there have been only 21 NFL quarterbacks who managed to play into their 40s. Saints quarterback Drew Brees became the 21st this year.
If there is a standard to follow when it comes to enduring careers at one of the league's most visible positions, Brees isn't a bad example. Just ask Rams QB Jared Goff.
"I think I've talked about this, but, the first time we played them, you're kind of in awe of playing Drew Brees and everything that goes along with it when I was a rookie – how great he is, how great his career has been," Goff said.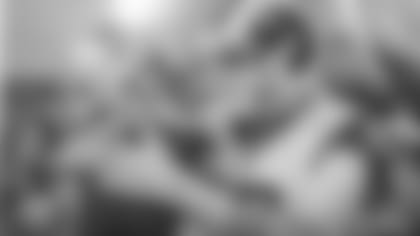 Between the regular season and playoffs, Sunday's 1:25 p.m. PT home opener at Los Angeles Memorial Coliseum will mark the fifth time Brees and Goff have faced each other in their respective careers.
In the first meeting in 2016, Goff was making just his second career start. The Saints won 49-21, while Goff completed 20 of 32 pass attempts for 214 yards with three touchdowns and one interception.
The second meeting in 2017 saw the Rams bounce back with a 26-20 win at Los Angeles Memorial Coliseum. Goff completed 28 of 43 for 354 yards with two touchdowns and one interception, and his passing yardage at the time fell one shy of tying his then-career high for a single game.
While Brees held a 2-1 advantage in the series following New Orleans' 45-35 regular season win over Los Angeles in 2018, he had seen enough heading into January's NFC Championship to know exactly what kind of quarterback Goff was developing into.
"He's just tremendous," Brees told reporters on Jan. 16. "There's not many guys that are just better pure passers, throwers. You watch what they do with their offense. There's a lot of moving parts and I think he handles it very, very well. I think he creates great timing and rhythm in the passing game and obviously he had a phenomenal season last year, but he's had an even better season this year. Future is really bright for him."
Goff finished the 2018 season setting new career-highs in completion percentage (64.9), passing yards (4,688) and touchdowns (32), getting named to his second consecutive Pro Bowl in the process. He also evened the series at 2-2 with the Rams' 26-23 overtime win over the Saints in the NFC Championship.
However, the respect Goff has gained for Brees goes beyond what he's shown on the field.
When Goff earned his first Pro Bowl nod in 2017, he joined Brees on the NFC roster, giving him the chance to pick the 11-time Pro Bowler's brain for an entire week. He joked with ESPN's Jenna Laine that he's "probably gonna annoy (Brees) by the end" because of all the questions he would ask, but to hear Brees tell it, he didn't mind at all.
Brees recognized the importance of the mentors he had early in his career and was glad to offer Goff advice – a gesture Goff remains grateful for.
"I think at this point now, I feel like we're more peers," Goff said. "At the Pro Bowl with him, we were able to experience that with him. Me and him have become friends and I'm a big fan of his."
Goff said he saw the end of the Saints' 30-28 win over the Texans on Monday Night Football, in which kicker Wil Lutz's game winning 58-yard field goal was set up by a Brees-orchestrated drive. He also wasn't surprised by it.
"It was a tough situation, but he did it and that's why he's so great," Goff said. "They're never out of it and I think we know that. With him behind center, they're never out of it. Have to try to score a lot of points to beat them."
Goff will attempt to do just that on Sunday, but it's safe to say the mutual respect will remain regardless of the result.