Quarterback Jared Goff seems to like making little jokes during his press conferences.
Are they always funny? Not necessarily. But when the barrage of reporters settle in for something like the Super Bowl, he can at least generate some good ol' media laughter.
Thursday's question? "As a quarterback going through this for the first time, are you ready for the challenge?"
"Yeah, I'm ready. Yeah, I'm ready to go. I think you don't have a choice — you better get ready," Goff replied.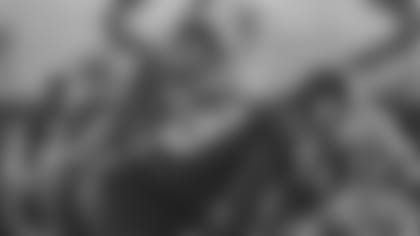 Was it really that funny? Nah. But it still encapsulates Goff's "California cool," even-keel demeanor that seems no different as he prepares for the biggest came of his life.
"It's an exciting time for myself, our team," Goff said. "It's been fun."
Nevertheless, Goff said he has talked to a few guys he knows about what the handle and what to expect over the next week and a half — though he kept who he talked to and the exact nature of those conversations to himself.
The quarterback said so far during the Super Bowl bye week he's been trying to take care of friends and family who want to attend the game next week, along with delving into studying what the Patriots have been doing defensively.
And even though they won't be on the field at the same time, Goff realizes it's notable that he'll be competing against Tom Brady — a quarterback who's been winning Super Bowls since Goff was seven years old.
The 24-year-old signal-caller said he doesn't necessarily have a specific moment from growing up that he remembers about the 41-year-old Brady playing in a Super Bowl. But it's hard not to respect just the sheer longevity of Brady's career, and that he's still competing for world championships.
"I think getting to this game nine times is unbelievable," Goff said. "You can't put into words how remarkable it is and everything he's done and why he's going to go down as the best of all time, if not one of the best of all time. Just so much respect for him and everything he's done. At the same time, I think our defense is ready for the challenge. It's going to be a tough one and one that we're getting prepared for right now
Goff has played the Patriots before, albeit with completely different stakes. The Cal product's third start came in Foxborough, Mass. — a 26-10 loss to New England in which Goff completed just 44 percent of his passes for 161 yards with one touchdown and two interceptions.
"They got after us pretty good," Goff said. "Hopefully, it's a different outcome this time."
We're clearly very far removed from that, but Goff realizes it's going to be difficult to defeat any team that has Belichick as its head coach.
"They're a great team, they have been for a long time for a reason. Obviously, coach Belichick and everything they do there defensively is at the top of the league almost every year for a reason," Goff said. "It will be a good challenge for us and something we're ready for. We have a lot of respect for them, but at the same time, we're going to prepare and do our best to win the game."
And there it is again — that calm, cool demeanor that Goff always projects. It came through on the field last Sunday against the Saints, in a game that the quarterback called "as hard of an environment as I can imagine I'll ever play in." And going through experiences like that can only help Goff and the rest of the Rams for the biggest stage of them all.
"It's something that you dream about, you work for," Goff said of the Super Bowl. "You put in all the work since even before this year. You're constantly thinking about this game and constantly thinking about getting to this game and having a chance to play in this game and now we have it. Now we have a chance to be world champions and have to prepare our best and get ready to go out there."