Head coach Sean McVay said the Rams were "absolutely" interested in extending cornerback Marcus Peters during the league's annual owners meetings back in March.
Following OTAs Day 4, Peters was asked about his contract situation entering the final year of his rookie deal, and the once Defensive Rookie of the Year made it clear his sense of urgency is elsewhere.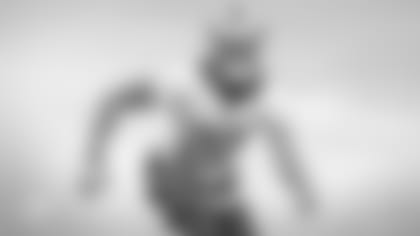 "I want to get to the Super Bowl and win it — it's fine — that's what I want to break, really," Peters said calmly, referring to the record-breaking deal that Dolphins' cornerback Xavier Howard signed earlier this month.
"The rest of the stuff will take care of itself."
Two months after expressing interest in keeping Peters in Rams land, McVay sounded a lot like he did at the owners meetings in Phoenix. The head coach credited Peters for riding his first wave in L.A., up and down in year one, following Tuesday's on-field session. McVay specifically mentioned Peters' strong play at the tail end of 2018, and looking ahead to 2019, McVay expects his All-Pro corner to pick up where he left off — with special attention from the Rams coaching staff.
"You see a guy with all the ability, I think our challenge as a coaching staff is to continue to suit our systems to our players' skill sets," McVay said. "And clearly this is a very productive player — great ball skills, great instincts and awareness — and I think when you really look at the makeup of not only our secondary, but our defense as a whole, that will enable us to continue to do some things that fit them and that's the most important thing."
Peters joined McVay on Tuesday, enthusiastic about the defensive unit's new look, featuring safety Eric Weddle, linebacker Clay Matthews, and a handful of new faces like rookie safety Taylor Rapp.
Then, after answering three contract-related questions with an iteration of, "It'll take care of itself," the Oakland native opened up on his approach to his contract season coming off his first career Super Bowl appearance.
"The only thing that I can do is come in and do my job and be the best teammate, be the best player I can be on the field, and the rest of the stuff will take care of itself," Peters said. "It feels good to hear it, but other than that, when it takes care of itself, it'll take care of itself."