DENVER — Head coach Sean McVay often says that because he asks players to look at themselves critically, he does the same. And that usually comes across through his self-criticism in press conferences.
If you've followed the Rams since McVay took over as Los Angeles' head coach, this isn't really news to you. But McVay was perhaps even more empathic than usual following Los Angeles' 23-20 victory over Denver to bring the club to 6-0 in 2018.
"Offensively, I thought we ran the football very well, and I thought I put us in some horrible spots," McVay said, unprompted, in his opening statement. "Throughout the game, just getting really impatient, forcing things that weren't there — but the players bailed me out."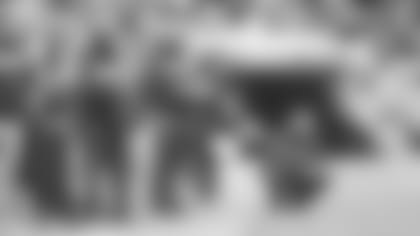 Then McVay was asked if the cold temperatures dictated anything when it came to Sunday's offensive strategy. Temperature at kickoff was 25 degrees, with a wind chill of 18.
"You know, it didn't really dictate anything, the cold didn't dictate anything, the decisions as far as play selection. If anything, the cold might have just affected my brain with some of the decisions that I made a little bit," McVay said — seemingly joking, but also not really joking. "But players did a great job — we'll take the win."
Looking at the stat sheet, the Rams tallied 444 yards of offense, averaged 6.9 yards per play, had 24 first downs, and converted 8-of-14 third-down opportunities. The club did score fewer than 33 points for the first time all year, recording only 23 — albeit with a missed 47-yard field goal along the way. And running back Todd Gurley eclipsed 200 yards rushing for the first time in his career.
But quarterback Jared Goff was sacked five times — nearly doubling his total coming into Week 6. Denver has one of the best groups of pass rushers in the league, with Von Miller and rookie Bradley Chubb leading the way. Still, McVay seemed the most frustrated with himself when answering a question about what happened with the club's pass protection.
"[T]hey've got great rushers up front and, again, I think that's where I'm most bothered — is because of the decisions where I put our guys in those spots where you [didn't] stay ahead of the chains," McVay said. "There were some of those third downs or even the two-minute [drive] at the end of the half — I thought I really did a poor job of running plays that give us the best chance to execute, and that's something that I need to do a much better job of. That's what's valuable, and fortunately the way that the team and the players played, and the coaches doing a good job — you can learn being able to win in a tough atmosphere and in an environment on the road.
"And those are the things you can't wait to go back and look at the tape, think about why some of the decisions were made, and then the players will look at themselves as well," McVay continued. "But there was a handful of plays that I really thought I didn't do a very good job for us today."
So, McVay was very hard on himself. Again, that's not exactly unusual. And neither was the response by some of Los Angeles' top offensive players. They understand why McVay is saying what he's saying. But they also don't feel like he's letting them down.
"He's always like that," Gurley said. "He's just a great coach, no matter if it's our fault, he's just taking the blame and saying he can do a better job, and that's what we love about him. You know it just goes with us and the coaches, we all live and we learn, and coach does such a great job of being hard on himself because he wants to learn, be great, be a great competitor and that's how he is."
"It's great and bad. He's an incredible coach and does such a great job with us. And he holds himself to a high standard. And I thought he was great today. He may say differently, but I though the did a great job. It's just stuff to learn from. I think a win's a win, and we hold ourselves to such a high standard that when we turn the ball over and don't score 30 points, it doesn't feel the same. But I think as the rest of the night goes on, I think that mood may shift."