As the Rams are now five practices into their OTAs, there's been one player noticeably not on the field for the workouts: running back Todd Gurley.
Now that doesn't mean the league's leader in touchdowns hasn't been in the building for this voluntary portion of the offseason program. On the contrary, he's been around for most days, and has frequently watched some of the practices.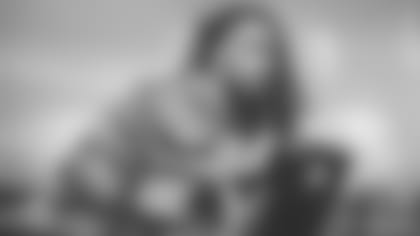 But he hasn't been on the field — which is all a part of something that had been mapped out, according to head coach Sean McVay.
"We've got him on a great plan. And usually, he's around right around this time doing some different things that we had talked about a while back. And we've been really pleased with Todd," McVay said this week.
"That was what we felt like was best when Todd and I sat down," McVay added of Gurley not doing on-field work at this point. "And it's been really good so far and we feel good about that."
Gurley's knee is clearly going to continue to be a story until the regular season begins — a fact that McVay has acknowledged over the last couple months. But this plan is to make sure No. 30 — who's scored 40 total touchdowns over the last two years — is at his best when the games count in the standings.
"[T]hat was really what we felt like, when we sat down at the end of the year, and [developed] a plan that's best suited for Todd getting ready for the Carolina Panthers — but then also taking into consideration being ready to go when training camp rolls around," McVay said. "And I think some of that also had to do with us just playing a lot longer than we had in previous years. So, really, sitting down with [head trainer] Reggie [Scott], sitting down — most importantly — with Todd and talking through those things, that was a plan that we kind of laid out a while back. And that's what's been followed so far."