OWINGS MILLS, Md. — As Jared Goff has moved into his second season under head coach and offensive play-caller Sean McVay, there's been a noticeable difference in the quarterback's performance.
Saturday's training camp practice in Irvine, for instance, was as sharp as Goff has looked all camp. And many of those who have been around the team and Goff since he came into the league in 2016 thought the session was the signal-caller's best as a pro.
"He was sharp today," McVay said on Saturday. "I thought he had really good command."
With Goff nailing passes to his receivers all around the field, wideout Brandin Cooks noted that day it felt like the best practice of the summer.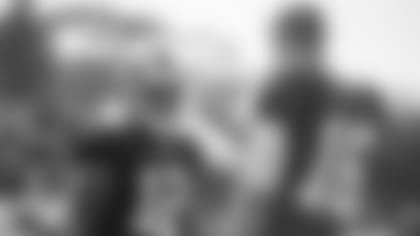 "But," Cooks added, "when we go and watch film, I'm sure there will be some things. That's how it usually always goes — when you feel like it's a great practice, it's not as great as you think it was. And when it's a bad practice, it's not as bad as you think it was. So we'll go watch the film and teach off the corrections and continue to go from there."
Asked about his Saturday success in his press availability following Monday's session with the Ravens, Goff referenced his comfort within the scheme.
"Yeah, it felt good Saturday. I think as time goes on you just continue to get more comfortable," Goff said. "We've really put in all our installs now. We're starting to rep the same plays over and over again, and our good plays over and over again. Starting to figure out what we like, what we're good at. When that happens, I think you become more comfortable with it and stuff starts to roll a little bit better."
The work Goff has put in with receivers like Cooks, Robert Woods, and Cooper Kupp over the offseason already appears to be paying off. That's especially with Cooks, who doesn't quite share the same history as Goff, Woods, and Kupp.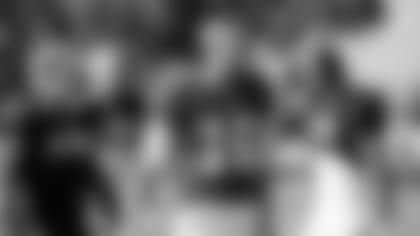 "With the chemistry thing, just connecting on those timing routes is huge for us," Cooks said. "For me catching it from him and me running the actual route, just getting on the same page, knowing where he likes to put the ball, and me just adjusting to that."
As the Rams continue their week with the Ravens, McVay said he's looking for Goff to stay consistent and keep growing more comfortable in the scheme.
"Any time that you're able to continue to get a bunch of different reps — you always talk about repetition is the mother of learning — he's gotten a lot of different looks at some of these concepts," McVay said. "So, he's more comfortable playing with the guys in the huddle. Being able to have that continuity where really Brandin is the only new guy in that huddle with him that he had last year.
"I think you do see him get more comfortable, but it's practice," McVay continued. "Looking forward to really evaluating those guys in those game-type of situations. But, feel really good about Jared, knowing how difficult that position is in the entirety of what we ask of the quarterback position specifically. But, he's definitely improving and I think you definitely see him having a total command of what's going on right now."