Both OTAs and minicamp marked an important time for the Rams, allowing the franchise to welcome in several additions while perfecting its scheme on offense, defense, and special teams.
But the offseason program also allowed Los Angeles to continue rehab work with some of its veteran players. One example was outside linebacker Matt Longacre.
Longacre is in line to take on a starting role next year, but was sidelined throughout the offseason after undergoing back surgery and finishing 2017 on injured reserve. Fortunately for the Rams, head coach Sean McVay was optimistic about Longacre's outlook, saying he would be "ready to go" come training camp.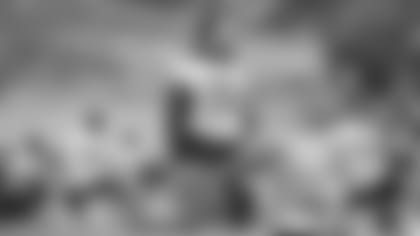 "Unless there's a setback, he should be ready to go and we're expecting big things from Matt," McVay said. "We know that Matt has been an extremely productive player for us and he's going to take on a large role moving forward, but he's feeling good."
In 2017, Longacre was mainly used as a depth piece on the outside, but made an impact when called upon. Through the first seven games of the season, the three-year veteran led the team in sacks. He finished the year with 5.5 sacks and 23 total tackles, before suffering a season-ending injury.
And because he is projected to step into such a large role in 2018, McVay and the rest of the coaching staff wanted to be cautious with his offseason reps — ensuring he would be at his best for the regular season.
"We wanted to be real smart with that back injury and knowing that he's got some history in this system, he's got that comfort level and we're expecting some really good things from him when we start up training camp," McVay said. "He should be ready to go."
The Los Angeles Rams players, cheerleaders, and staff participate in the 10th Annual Community Improvement Project at 20th Street Elementary School