Throughout the course of the preseason, head coach Sean McVay has been asked nearly every day if there's an update on defensive tackle Aaron Donald.
He always dutifully answers. But usually he says there's nothing new to report, adding that it's a priority for the organization to find a solution with the reigning AP Defensive Player of the Year.
Tuesday, however, was different.
It started with a question regarding how the Rams' brass met with Donald's representation prior to the final preseason game in Green Bay a year ago. A reporter inquired whether there was a similar plan for this upcoming trip to New Orleans.
McVay's tone shifted a bit, becoming more like he was joking. And he replied, "Things are heating up — you might see that sooner or later. That could happen. It's exciting. We're very optimistic. Seriously, we are."
The emphasis on "very" was McVay's.
Another reporter asked for clarification — was McVay referring to a trip for a meeting, or to a Donald extension?
"Could be both," McVay said, still sounding like he could be joking. "So, let's put it this way — maybe it'll happen."
So, maybe it'll happen? Did something change over the course of the last few days?
"Yes," McVay said, then paused for a few seconds. "No, I'm just kidding."
Huh? Because of McVay's tone, the response left reporters a bit puzzled. And he didn't clear the waters very much when he went on to mention Rams E.V.P. of football operations Kevin Demoff.
"The dialogue has increased. The level of urgency is extremely high on both sides," McVay said, actually sounding serious. But then… "And, you know, let's go Kevin Demoff — let's go man. No, I'm just kidding."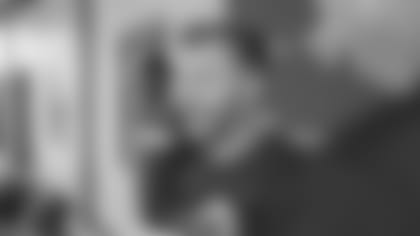 "I think that we're hopeful that we'll see if something changes in the near future," McVay said. "This is a serious statement: I'm very optimistic that things will be good for us."
OK, but really. Are the Rams going to meet with Donald and/or his representation in person this week?
"If it's not done, yeah. We're going to do everything we can to be proactive," McVay said — and he really did seem serious at this point. "Whether it's before the game or after, being out in New Orleans — whatever we can do to make it work and do our part to try to demonstrate to Aaron how important it is for us to get him here, be a part of this team.
"And all jokes aside, there is a level of increased optimism," McVay continued, seeming as serious as the first clause implied. "I'm not really kidding around with that. There's a lot of things that need to get done for it to be finalized. But, we're working in a positive direction."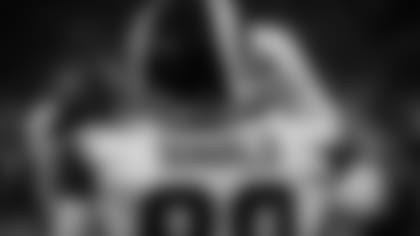 August has been a month for movement when it comes to the potential Donald extension. General manager Les Snead told reporters when the club was in Baltimore for the first preseason game that the team and Donald's representation were in the "same zip code" for a deal, adding "zip code usually means you're close." And there have been a number of media reports since then that the two sides are nearing a final agreement as Week 1 draws near.
But until Tuesday, McVay had never gone so far as to as saying, "level of increased optimism." And even though McVay acknowledged that he was about to "get everyone excited," he added, "It's the truth."
Then, he looked directly into a camera to broadcast a message to his star defensive tackle.
"Aaron," McVay said, "see you soon, buddy."