The Rams will pick seven times in next month's NFL Draft in Nashville, Tenn., and head coach Sean McVay is looking to add some fire power to his offense.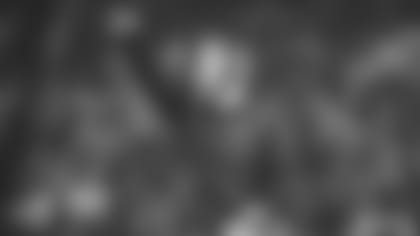 Relatively quiet in free agency so far, the Rams have added veteran safety Eric Weddle and re-signed outside linebacker Dante Fowler. So with the defense taking shape and the offense retaining much of its high-flying corps, the head coach and play caller for the league's No. 2 offense in 2018 wants young players that 'can create and create explosives.'
"I think when you go back and you look at our tape and say, 'alright where are some areas that we could be better as coaches, starting out, but what are some of the nuances from a skillset that we are looking for, whether it's from a receiver, tight end, or running back," McVay said a day before free agency hit. "In a lot of instances it's playmakers and guys that can do different things and have a versatile skill set whether it be running back, tight end, or receiver."
McVay specifically mentioned his club's upcoming first-round selection and how addressing both safety and edge rusher in free agency gives the personnel staff a bit of flexibility for its choice on the No. 31 pick.
The Rams added just one skill position — former University of Tennessee running back John Kelly — in last year's draft, which proved to be centered on building depth the trenches in L.A. Now, after rolling out one of the league's most menacing offenses for much of their NFC Championship season, McVay and the Rams have made it clear bringing in more playmakers isn't out of the question headed into 2019. Whether it's bolstering the wide receiver trio of Cooper Kupp, Brandin Cooks, and Robert Woods — which was at one point on pace to total 3,000 yards receiving in 2018 — adding to their tight end tandem, or to their recently dinged-up running backs room, there's a sense of the more the merrier from the youngest coach to ever lead a team to the Super Bowl in league history.
"That would be something that you would have an open mind, I think you always want to have an ideal way of alright, how many receivers, how many tight ends, how many backs?" McVay added. "But with where we are at, we feel good, but I don't think you can ever have a large enough depth from a playmaker standpoint."