With the offseason program complete and Rams Training Camp starting up in late July, it's time to look ahead. As part of the preparation for training camp, theRams.com will be spotlighting a handful of players new to the Rams' roster. Continuing the series is rookie outside linebacker Ochaun Mathis.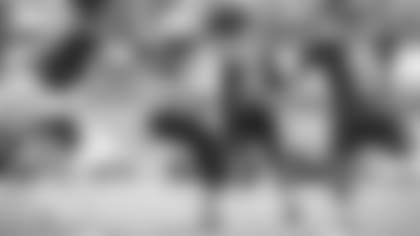 How He Got Here: The Rams used their 10th selection in the 2023 NFL Draft on Mathis, taking him 189th overall in the sixth round.
What's Next: Finding a role in the pass rush rotation. Similar to draft classmates Byron Young and Nick Hampton, Mathis entered an outside linebacker room led by Michael Hoecht and Daniel Hardy, but one that also still has plenty of playing time to compete for with Leonard Floyd, Terrell Lewis and Justin Hollins all gone. Rams head coach Sean McVay has been preaching competition with this young roster, and there should be plenty of it within this group, creating opportunities for Mathis and others to potentially earn a meaningful role early on.
Bet You Didn't Know: Mathis was regarded as the defensive prospect who "flashed the most" in this year's East-West Shrine Bowl, where he also showcased his versatility by spending some time rushing the passer inside in addition to outside.
Quotable: "I think (Outside Linebackers Coach) Joe Coniglio has done an outstanding job in general, really with a lot of those rookies. Whether it's Byron, Ochaun, you look at Nick, three rookie draft picks from the outside linebacker spot. ... I like what I've seen really from all three of those young guys." – McVay after Day 1 of minicamp