Los Angeles will be without a key player for at least a few weeks, as All-Pro returner Pharoh Cooper suffered a significant ankle injury against the Raiders on Monday night. 
"He's just got some loose fragments in there — it's a pretty serious ankle sprain, is basically the best way I can put it," head coach Sean McVay said on Tuesday. "I remember when I was playing, I had a bad ankle sprain and they said, 'You'd almost be better off breaking it,' just because of some of the ways that it can heal. It might require him to go in there and get that thing fixed. But he's going to get a second opinion."
Cooper was a first-team All-Pro kick returner and a second-team All-Pro punt returner for Los Angeles in 2017. He led the league with 27.3 yards per kick return last year, taking the opening kickoff of the victory over the Jaguars 103 yards for his first professional touchdown. Cooper also averaged 12.5 yards per return on punts, and put a string of games together with a punt return of at least 20 yards after taking over the role in Week 6. 
The South Carolina product was injured on Monday while fielding a punt that bounced into his hands at about midfield late in the third quarter. Cooper signaled for the rest of the return team to get away from the football, but picked it up and began to run regardless. From a replay, it appears a Raiders player may have rolled up on Cooper's leg, thus causing the injury. 
"However you cut it, especially with just the type of player that he is, and the specific position that he plays, it's going to limit him for a few weeks at a minimum," McVay said. "And we'll find out a little bit more as far as what the plan of attack is with regard to his recovery in the next day or so."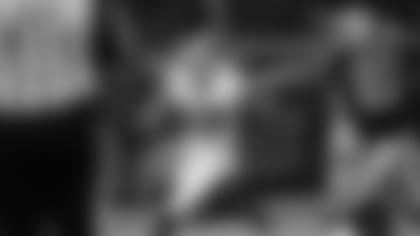 Cooper's backup at punt returner is wide receiver Cooper Kupp — who fair caught a punt in the fourth quarter of Monday's game. But wide receiver Mike Thomas is the No. 2 kick returner, and he was also injured during Monday's game. 
"Mike Thomas, he tweaked his groin last night," McVay said. "He's going to see a specialist. Hopefully we'll get some good information, but he could be out for a little bit of time as well." 
Because of Thomas' injury, McVay said L.A. is evaluating both internal and external options for returner. One could be wide receiver JoJo Natson, who returned both kicks and punts for the Rams during the 2018 preseason. He is currently a free agent after being waived by the club during the roster reduction to 53 players. Practice squad wide receiver Steven Mitchell has limited experience returning kicks and punts for USC, much like running back Justin Davis for the same college program. Running back John Kelly did not return kicks or punts at Tennessee. 
"Whether we handle that internally or we go outside of somebody else to figure that role out, those are things that we've kind of been discussing," McVay said. "And in terms of making that final decision, that'll be something that we probably decide on in the next day or so."