It seems fitting that the Rams first padded practice of 2018 came on a Sunday.
The first padded practice of camp provided a bit more of a realistic look at the what this year's Rams might look like on Sundays that count.
Throughout the first few days of training camp, head coach Sean McVay has mentioned how it's easier to evaluate practices once players are in pads.
On Saturday, McVay said his team won't go full-tackle football during camp, but padded practices will allow the team to "thud."
"I think we've got a lot of guys that know how to practice [with] pads on," McVay said following Saturday's practice. "Want to try to make sure we're getting that physicality, but also limiting the risk for injury with some of things that can occur when guys are going to the ground, consistently getting rolled up on."
Veteran center John Sullivan exited Sunday's practice early, but McVay said he expects Sullivan to be "OK."
Overall, McVay considered Day 1 in pads a success.
"For the first day, the biggest thing is great energy. Guys were competing but doing it in a smart way and that's what we like," McVay said.
McVay got his desired physicality and maybe more in some instances on Sunday afternoon. Some of the first "thuds" of the season could be heard when the defensive linemen, led by Michael Brockers and Ndamukong Suh, joined veteran Andrew Whitworth's offensive line for a series of drills to start practice.
Once scrimmage was underway, fans reacted to a handful of hits that may have surpassed McVay's definition of the word "thud" — kicked off by a strong defensive effort by defensive back Isaiah Johnson on tight end Gerald Everett.
The tough hits on tight ends continued just a few minutes later, when safety Marqui Christian laid the biggest hit of the day on tight end Temarrick Hemingway. Christian rounded out his big day with an interception.
Big hits and all, McVay praised his teams' now-padded defensive effort.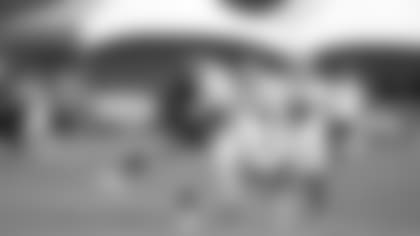 "I thought the defense did a great job, came out with good energy, matched a lot of our concepts, played the run really well, and the offense found a way to have a little bit of success," McVay said.
In a padded practice that seemed heavily focused on the run game, many of the highlights from Day 4 — for better or worse — came with the ball in the air.
Third-year quarterback Brandon Allen took the majority of snaps on Sunday. Fellow QB Sean Mannion was away from practice for the birth of his child.
Starting quarterback Jared Goff seemed to take fewer snaps on his fourth consecutive day of work in Irvine. The pair combined to throw three interceptions, two of them from Allen.
Following practice, McVay addressed Goff's passing into Wade Phillips' newly remodeled secondary.
"I think those windows close up a little bit faster with some of those guys that are on defense. We always talk about reading with your feet and sometimes it's appropriate to be able to try to fit those in those tight windows and sometimes the coverage dictates, we need to progress and do it a little bit faster manner," McVay said.
Even though many of the windows slammed shut on his quarterbacks, McVay had good things to say about Goff's ability to bounce back, and elaborated on just how difficult the quarterback position can be.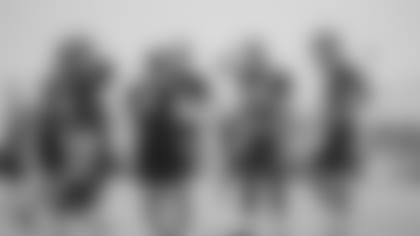 "But, what he's done such a good job of is being receptive where he's able to kind of – he's seeing it real well right now. Even whether it be good or bad he's able to kind of correct himself immediately after," McVay said. "When you're looking at 11 bodies on defense, rush is coming at you, different coverages — it's a lot for a quarterback. I think, really, our group as a whole has done a nice job. But always, always striving to improve."
While Goff and Allen, throwing in pads for the first time, struggled at times on Sunday against a physical backfield, a few of the Rams' wide receivers wowed fans with some impressive catches.
Tight end Gerald Everett had undoubtedly the catch of the day during some red-zone work. Everett turned just in time, leaping to snag an Allen pass over his defender.
First-year Ram Brandin Cooks also showed off his hands, reeling in well-paced pass that Cooks bobbled across the middle of the field amidst tight coverage. He then showed off his speed, racing to the end zone for what likely would've been a touchdown.