Head coach Sean McVay's offense put 57 seconds on the clock and worked on managing time and marching the ball down the field in the clutch. Both the first- and second-team offense had an opportunity with one timeout available.
Starting quarterback Jared Goff strung together a series of nice passes in his drive, eventually hitting wide receiver Robert Woods on the sideline, stopping the clock. Goff left the field and kicker Greg Zuerlein took it from there, drilling a 52-yard field goal to complete the task.
Goff credited the defense for creating tighter windows and performing well early in camp. He also spoke about feeling a bit more comfortable lining up across the fiery defensive unit as camp goes on.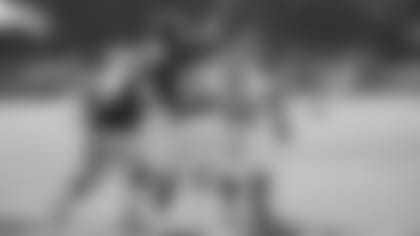 "It just continues to slow down. The defense becomes easier to recognize. The pre-snap process is a lot smoother and you're more under control of everything — and you're seeing things better," Goff said.
Backup quarterback Sean Mannion returned to practice on Wednesday after missing Sunday and Monday's practices, awaiting the birth of his daughter. In Mannion's two-minute drill, wide receiver Josh Reynolds made a nice play across the middle for a solid pick-up, but the offense eventually ran out of time.
However, Zuerlein kicked for the sake of practice and drilled an impressive 63-yard field goal with plenty of distance.
Zuerlein's 63-yard bomb came after he hit 6-of-6 attempts, trading snaps with backup kicker Sam Ficken. Zuerlein, who is returning from back surgery this season, was consistently hitting his attempts straight up the middle, with plenty of leg.
On Monday, special teams coordinator John Fassel spoke about Zuerlein returning from injury and the his volume of reps.
"I think part of my job, I mean, going into his seventh year is to manage his volume, even though he's feeling good," Fassel said. "You could ask him, but I think he's feeling as good as he has in years. So, sometimes you get that itch to just want to kick, and kick and kick and kick, and that's kind of what happened to him before. So, I'm going to do a really good job of managing his reps, but giving him what I think that he needs to be ready for Week 1."
If Zuerlein feels as good as he looked on Wednesday, he must be feeling pretty good.
The Rams are just over one week away from their first preseason game against the Ravens in Baltimore. With two practices left in Irvine and two joint practices with the Ravens in Baltimore remaining before kickoff next Thursday, McVay says many of the plays and concepts will be installed by the time the team heads east on Sunday.
While the players were given the day to rest on Tuesday, McVay said he also took a day off Tuesday — sort of.
"Fortunately like you guys have heard me say, when you love what you do, you don't really feel like you're working — so I had some NFL Network on, I got caught up with training camps around the league," McVay said.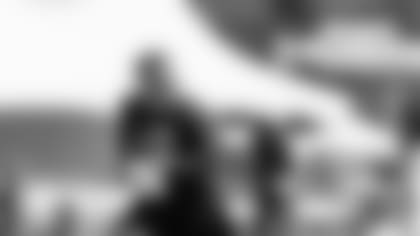 When asked how many hours of sleep he averages during training camp, McVay said "anywhere between four and six."
"It depends on how much stress I have. I feel pretty good — yesterday I slept a lot, I felt like a bear in hibernation — I got about eight hours."
According to the Centers for Disease Control and Prevention website, humans aged 18-60 should get seven hours of sleep per night — just under McVay's low-stress training camp hibernation level.