Following each practice, Quotes and Notes will bring you what was said, who said it, and what it means for your Los Angeles Rams.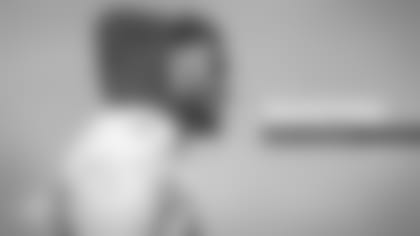 "It feels really good out here. I love the locker room, love the setting, and the coaching staff is really good." -OLB DANTE FOWLER
Outside linebacker Dante Fowler met with the media for the first time as a Ram on Wednesday.
Fowler has 2.0 sacks, a forced fumble, and fumble recovery in 2018 coming off the bench for the Jaguars.
The University of Florida product's best season came in 2017, when he recorded 8.0 sacks, seven tackles for loss, 10 quarterback hits, and 2 forced fumbles, playing 44.8 percent of snaps.
"I want to show guys that I'm not just an elite pass rusher, that I'm a full down player — first down, second down — that I'm very smart and help my defense achieve their goals.." -OLB DANTE FOWLER
Fowler also talked about how he hope to help L.A.'s already impressive defense, and when asked if there is any pressure joining the undefeated Rams, Fowler said he knows what it's like to be on a well-prepared, championship team from his time in Jacksonville.
Fowler and the Jaguars won the AFC South in 2017, but lost to the Patriots in the AFC Championship game.
Fowler had 2.0 sacks, two tackles for loss, and three quarterback hits against quarterback Tom Brady and the Patriots.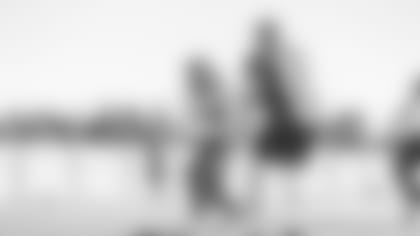 "We're glad to be able to acquire Dante, it was a great job by Les and our personnel staff. We feel like we getting him will help us from a rush perspective." -HC SEAN McVAY
Head coach Sean McVay opened his Wednesday presser by crediting GM Les Snead and his staff for acquiring Fowler from Jacksonville in exchange for a pair of draft picks.
Fowler joins the Rams with 14.0 sacks, 14 tackle for loss, and three forced fumbles in 39 career games as a professional. Fowler has been a rotational member of the Jags defense since returning from injury in 2016.
McVay said that Fowler joining L.A.'s effort against the Saints depends on whether or not he is able get up to speed before the team takes off for New Orleans on Friday.
"What a class act, couldn't be more impressed with the way that he handled an obviously tough conversation." -HC SEAN McVAY
McVay also confirmed on Wednesday that waiving offensive lineman Jamon Brown was a result of bringing on Fowler.
McVay said called Brown an instrumental part in the Rams winning the division last year, and wished Brown well saying that he is hopeful Brown has a "long, good career ahead of him". Brown started in nine games for the Rams as a rookie back in 2015, and then in all 16 games a year ago.
The Rams will lean on rookie depth in backup center Brian Allen, and TCU product Joseph Noteboom.
The Giants claimed Brown off waivers on Wednesday.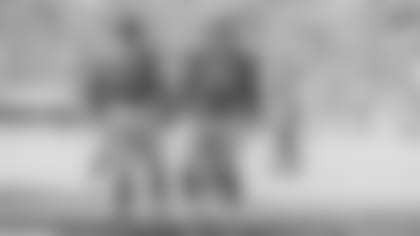 "If he needs my help I'm here, all he has to do is ask. But I just want him to know the playbook as fast as he can — be comfortable so that he can fly around and make plays." -DT AARON DONALD
Defensive tackle Aaron Donald spoke to the media about his newest teammate on Wednesday. Donald said he was "smiling from ear to ear" when he found out about Fowler joining his pass-rushing unit.
Los Angeles added Fowler on Tuesday in need of an edge rusher, and Donald expressed belief that Fowler will find supplement L.A.'s interior linemen well by beating his man one-on-one off the edge.
More specifically, Donald mentioned Fowler's speed, technique, and special pass rush moves as some the edge rusher's strengths. -HC SEAN McVAY
For the second-straight week, the undefeated Rams will take on one of the NFL's best in veteran quarterback Drew Brees.
In his 18th NFL season, Brees holds a professional record of 148-107-0, with the most passing yards in NFL history (72,435 yards), and 502 touchdowns, which is No. 4 all-time.
Brees has been accurate his season. The 11-time Pro Bowler is completing 77 percent of his passes, and has totalled 1,990 Yds and 14 TDs, with just one interception.