Following each practice, Quotes and Notes will bring you what was said, who said it, and what it means for your Los Angeles Rams.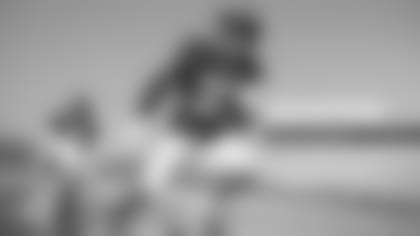 "These are two young guys that we do have a lot of confidence in that have definitely shown positive signs when they've had their opportunities."
-HC SEAN McVAY
Head coach Sean McVay said running back Malcolm Brown will miss eight-to-10 weeks and likey by moved to injury reserved.
McVay said that whether it will be second-year running back Justin Davis or rookie running back John Kelly will depend on both the situation and this week's practices.
"Definitely in the NFL, if you can't pass protect, then you can't play."
-RB JUSTIN DAVIS
One of Brown's possible replacements, running back Justin Davis has his priorities in order a few days ahead of facing one of the league's best pass-rushing teams.
On Thursday, McVay said the former USC standout has grown more comfortable as a blocker and Davis said he's focused on pass protection since before entering the league a season ago. Davis has played on special teams in 2018. He has two tackles in eight games.
"I think it's going to be more anxiousness than anything. I don't really do nervous."
-RB JOHN KELLY
Running back John Kelly, who is yet to be active on game day this season, exuded confidence ahead of what could be his first NFL game on the 46-man roster.
Kelly's confidence may have been on display in his rookie preseason. The former Tennessee Vol had 46 carries for 197 yards and three touchdowns in four games.
"When he gets close to the quarterback, he is violently attacking that football and that really goes for all of their defensive linemen and their linebackers and secondary players."
-HC SEAN McVAY
McVay was asked what type of challenge Bears outside linebacker Khalil Mack presents quarterback Jared Goff in his Wednesday press conference.
McVay spoke at length about Mack's technique and strength, while mentioning several other members of the Chicago defense, including cornerback Kyle Fuller who has six interceptions in 2018.
Chicago's defense has been one of the league's best this season. Mack leads the team with 9.0 sacks and Chicago's defense has stopped the run well — allowing just 85.8 yards rushing per game. The defense's 21 interceptions leads the NFL.
"We avoided him in Week 1 and now we have to face him in whatever week we are in now — I can't even keep track of it — but it will be fun."
-QB JARED GOFF
Quarterback Jared Goff said he looks forward to the opportunity to compete against Mack, after avoiding the pass rusher when Mack was traded to the Bears just ahead of L.A.'s Monday Night Football game Week 1 in Oakland.
Goff said his group has been conscious of Mack throughout the week, and agreed with his head coach's comments from Monday afternoon, saying he'll be aware of where Mack is lining up throughout Sunday night's game.
Goff has been sacked 26 times this season and has gone sackless just once — Week 9 against the Saints.
"Many reasons, many reasons — and something that I'll look to improve on is continue to try and keep taking care of the ball."
-QB JARED GOFF
Goff was sacked twice against the Lions and put up some of his worst passing numbers of the season in Detroit. As for what wrong, Goff said a lot of things went wrong, but put a finger on taking better care of the ball.
Goff finished his Week 13 with 207 yards, one touchdown, and one interception, completing just 51.5 percent of his passes against the Lions.
Goff explained that will be conscious of Fuller and the Chicago secondary, but he won't change anything about his approach in preparing for the interception-hungry Bears defense.