Following each practice, Quotes and Notes will bring you what was said, who said it, and what it means for your Los Angeles Rams.
"I think it'll be fun. I think we expect a lot of our fans to show up and be excited and we all know how well the Raiders travel. So, it should be a good atmosphere on Saturday." -HEAD COACH SEAN McVAY
This Saturday's preseason Week 2 matchup against the Oakland Raiders marks the Rams' return to the L.A. Coliseum for 2018.
The Rams will call the Coliseum home for two more seasons before moving to the much anticipated Los Angeles Stadium and Entertainment District in Inglewood, CA, opening in 2020.
The Rams will look to even their preseason record at 1-1 with a win against Oakland.
"I think everybody that knows [Raiders head] Coach [Jon] Gruden knows what a great thing it is to have him back in coaching and what he's meant to me and how influential he's been. It's certainly a special experience just because of what that family and specifically Jon's meant for me." -HEAD COACH SEAN McVAY
Head coach Sean McVay will shake the hand of an old friend on Saturday when the Rams meet the Raiders for preseason Week 2 in the L.A. Coliseum.
Raiders' head coach Jon Gruden is returning to the NFL sidelines as a head coach for the first time since 2009.
In 2008, Gruden's staff provided McVay with his first job in the NFL, as an assistant quarterbacks coach in Tampa Bay.
Between his final year in Tampa and current position in Oakland, Gruden served as an ESPN broadcaster and analyst.
"Yeah, he's done a great job. I think really, he's playing some safety — he's done some different things, playing a dime linebacker spot. You see the athleticism, you see the burst, the suddenness shows up. I think he's getting more and more comfortable with the different things." -HEAD COACH SEAN McVAY
McVay had positive things to say about third-year safety Marqui Christian following Wednesday's practice.
Christian had one of the best individual performances of camp yet, intercepting a Jared Goff pass, deflecting another, and "sacking" Goff — all within the first half of practice.
Christian took the field in the dime package on Wednesday, which seemed to almost completely outwork McVay's offense.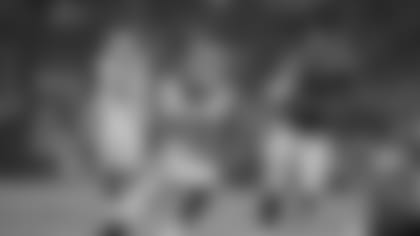 "I think you see some of the things that were so intriguing about him in Tennessee – just with the ball in his hands and how explosive he is." -HEAD COACH SEAN McVAY
McVay spoke about rookie running back John Kelly once again on Wednesday.
Kelly could see more action in preseason Week 2, following a strong performance in Baltimore, as well as a potentially higher spot on the depth chart.
McVay mentioned that running back Justin Davis was experiencing some hamstring soreness, possibly creating a playing time opportunity for Kelly.
Kelly averaged just under six yards per carry on 77 total rushing yards against Baltimore in preseason Week 1.
"Earlier Coach Wade [Phillips] was saying we were going against the most explosive offense in the league, so if we practice good against these guys, it just tells a lot about our defense." -CB NICKELL ROBEY-COLEMAN
On Wednesday, Robey-Coleman and that Rams' defense made quarterback Jared Goff and company look like anything but an explosive offense.
Wednesday's practice is not the first time the Rams' stacked and speedy defense bullied McVay's O the last few weeks in Irvine.
The defense was firing on all cylinders this afternoon, led by safety Marqui Christian and tackle Ndamukong Suh, who collectively caused an array of difficulties for the Rams in red.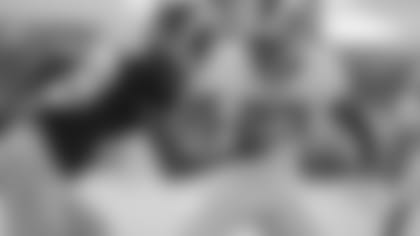 "To be honest, I go against the best slot receiver everyday in practice, [wide receiver] Cooper Kupp. Very creative guy. Crafty, smart, can catch, he can do it all… he's quick. Going against guys like that everyday, you know it's hard to downplay his performance and what he does on the field day in day out." -CB NICKELL ROBEY-COLEMAN
Robey-Coleman was complimentative of his teammate Cooper Kupp following the penultimate training camp practice of the year.
Robey-Coleman went on to clarify that he respects Kupp "not just because he is a teammate", but because they push each other to improve.
Entering his second year in the league, Kupp is expected to start in the slot for the Rams in 2018. Kupp started six games in 2017, and finished his rookie season with 869 total yards and five touchdowns.