Following each practice, Quotes and Notes will bring you what was said, who said it, and what it means for your Los Angeles Rams.
"The more competitive atmospheres you can create, the better for us." -HC SEAN McVAY
A huddle of referees stood on the sidelines while the team ran through individual drills at Cal Lutheran.
The Rams simulated game-like situations in a scrimmage as a part of their short week of practice prior to the final preseason game this Thursday in New Orleans.
McVay said the scrimmage was intended to prepare his team for Oakland, and sharpen execution in padded, game-like scenarios.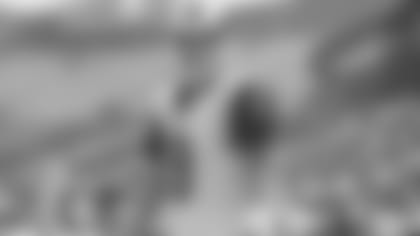 "It'll be fun to watch him [Luis Perez] compete and we all know what a good job he's done in practice — and look forward to seeing him play in a game." -HC SEAN McVAY
Undrafted rookie QB Luis Perez will play his first snaps of the preseason the last exhibition contest.
McVay confirmed that backup Brandon Allen will start the game, and Perez will take the reins in for the second half.
Perez is undrafted out of Texas A&M-Commerce, where he won a Division II national championship.
"You feel good. I think we will continue to evaluate things moving forward." -HC SEAN McVAY
McVay was optimistic when asked how comfortable he was with his backup quarterback Sean Mannion following his three preseason showings.
McVay said it is difficult to evaluate based on a limited sample size, but Mannion has shown mental toughness this preseason.
Mannion's completion percentage has improved with each game following his opening performance in Baltimore. On Saturday against the Texans, Mannion connected with WR Pharoh Cooper for his first touchdown pass of the preseason, finishing his three-game run as a starter 24-of-46 passing, with one touchdown and two interceptions.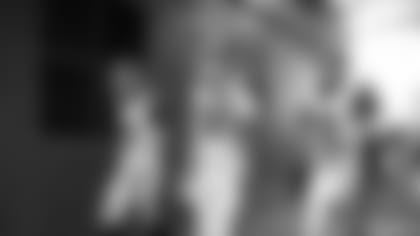 "There's always room that we can look to for improvement — really for the quarterbacks room as a whole." -HC SEAN McVAY
McVay also talked about what he's seen from Brandon Allen at the QB spot.
He said that Allen has done a good job with his legs, on third down, and executing the offense.
Allen had a nice showing against the Texans, going 10-of-13. Allen's second half was highlighted by the Rams' opening 19-play, 12-minute drive of the third quarter, which ended in a John Kelly touchdown.