Following each practice, Quotes and Notes will bring you what was said, who said it, and what it means for your Los Angeles Rams.
"The guys that we've added have been really smart conscientious football players. Been really pleased with what they've brought to our team and we are looking forward to it showing up when these games start counting eventually." -HEAD COACH SEAN McVAY
The Rams' offseason additions have largely made their presence felt in training camp, despite many of them being on defense, unable to make very physical plays.
Things seem to be coming together recently, with wide receiver Brandin Cooks connecting with Goff more frequently and defensive tackle Ndamukong Suh shoving his way to the quarterback regularly.
"With Sean [Mannion], you know, he got a lot of good work last year. Thought it was a really good opportunity for us to evaluate him in the system and it's going to be a lot of the same ... I think he's taken a lot of steps in the right direction. [Quarterbacks] Brandon [Allen] and Luis [Perez] have done a nice job, but you can really see Sean has played well this offseason — extremely conscientious, he's got a grasp of what we are trying to do offensively, and we've been really pleased with him." -HEAD COACH SEAN McVAY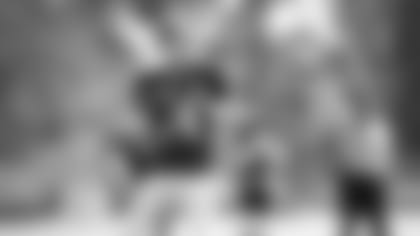 It is unlikely that quarterback Jared Goff plays many — if any — snaps on Thursday night in Baltimore.
That being said, McVay commented on L.A.'s backup quarterback situation, led by strong-armed Oregon State product Sean Mannion.
Mannion missed a few days of training camp last week awaiting the birth of his daughter, but McVay has been overall pleased with Mannion's progress.
"It [Tuesday's practice] was like quiz for us — not really a test, it wasn't a game. It was like a quiz for us and I think we did a hell of a job." -CB AQIB TALIB
Talib was pleased with the Rams' defense following Tuesday's practice in Baltimore. He said the defense was forced to communicate and make adjustments on the fly in unscripted periods, in which the Ravens' offense mixed in new looks and played with the tempo.
Talib had one of a handful of Rams interceptions on Tuesday afternoon. Cornerback Marcus Peters, safety John Johnson and linebacker Cory Littleton also had interceptions on the first unit during Tuesday's practice.
"We good, that's my homie — we good. It's been real cool. He [corner Marcus Peters] is learning the defense, I know the defense, but at the same time we are both helping each other just through seeing the game in a certain way — so we're real good." -CB AQIB TALIB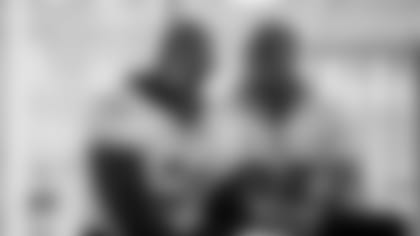 Talib and fellow corner and first-year Ram Marcus Peters have been well-documented doing just about everything together since camp started in Irvine about two weeks ago.
As one of the most vocal position groups in practice, it is not uncommon to hear either Talib or Peters breaking down defensive backs' play or dishing out pointers.
The duo is expected to create headaches for offenses across the league this season as two of the leaders in L.A.'s deep secondary.
"I think me and M.P. [Marcus Peters] will probably go and try the crab cakes and get some real Baltimore food." -CB AQIB TALIB
Following Tuesday's practice Talib confirmed he has never tried Baltimore crab, but plans to give it a whirl with Peters.
"Definitely ready to go, but like I said, we're out here — get some good work. It's good to go against some other people and come out here and compete. The heat is different for sure, so you get to train in some different heat, but just come out here, get some work done and see how the preseason game goes and just get back to Cali and get back to it again." -RB TODD GURLEY
Gurley and the Rams have a joint walk-thru on Wednesday and then Thursday night's matchup with the Ravens before returning to the less-humid Irvine.
The Rams are set to practice five more times in camp before preseason Week 2 against the Raiders.
"It was exciting for me. All we need is [Orioles' center fielder] Adam Jones to come over and it will be fine with me. I've always been a big fan of [Dodgers' third baseman] Manny [Machado] and I'm glad that New York didn't get him — he's over there with the Dodgers and I'm excited to see what he does in L.A." -RB TODD GURLEY
As a Baltimore native, Gurley grew up an Orioles fan.
Following practice, Gurley talked about former Oriole All-Star Manny Machado's recent move to L.A.
Machado is batting .279 with two home runs since joining the Dodgers.
"I'd probably rather do the preseason honestly because they try to make you do like 12 100's instead — which is crazy — so sometimes it's better to just play in the game honestly." -RB TODD GURLEY
Gurley, who is also unlikely to see much action on Thursday night, said he would rather play in the game because the alternative is a tough conditioning workout.