The rookie out of Tennessee is anything but quiet. He's one of the youngest players on the team, but has an old school heart. This is RAMblings with running back John Kelly.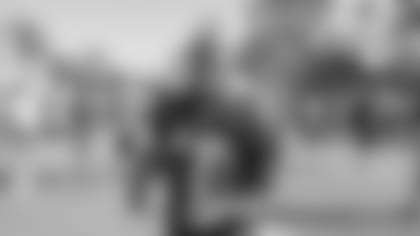 Sarina:I know you like peanut butter and jelly sandwiches. So what is your perfect peanut butter and jelly sandwich? What's the bread you're using?
John: Okay, the perfect peanut butter and jelly sandwich. A little bit of honey infused peanut butter. Strawberry jam. Smuckers to be exact. A few pieces of banana. On honey wheat bread.
Sarina:Bread toasted? Regular?
Sarina:Crunchy? Smooth (peanut butter)?
John:Smooth honey infused peanut butter.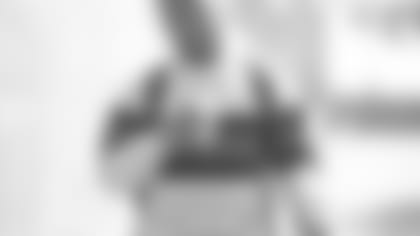 Sarina: What decade were you supposed to live in?
John: Oh yeah! (claps) I was supposed to be born in the 60s. Going through adolescence in the 70s. You feel me? I was supposed to be a teenager in the 70s for sure.
Robert Woods: (Shouts out) You a Baby Boomer?
John: Yeah! Baby Boomer. Born in the 60s, a teenager in the 70s.
John: I feel like that era was somewhat me. I appreciate the music that was made in that era. I think the peaceful revolution stands out to me.
Sarina: An old school heart.
John Kelly: Yeah, you feel me.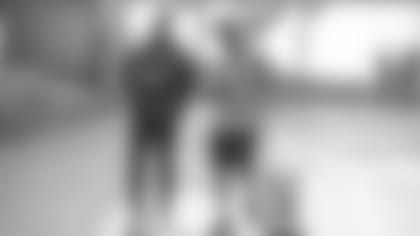 Sarina:Who was the first person you told when you became activated?
John:First person I told was my boy Malc (Malcolm Brown). My boy went down, so I had to cheer him up with some good news. He was definitely proud and happy that I was able to accomplish such a great achievement in my young career.
Sarina:What's the hardest part of practice… and why is it the ladder drill? (Laughs)
John:(Laughs) The hardest part of practice is leaving. I just love being out there. I love being out there with my guys.
Sarina:The ladder drill though…
John:That's my bread and butter. That's something I've been doing since I was about eight years old. Literally the same exact drills. That's the most fun part of practice because I get to practice a lot of my moves that I'm going to attempt to do in a game.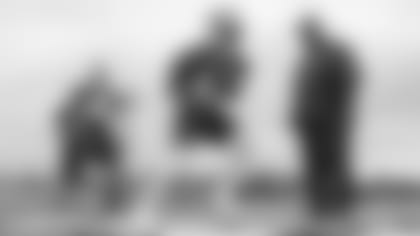 Sarina: What have you learned from being around Todd Gurley?
John: (Shouts out to Todd Gurley) Hey TG! What would you say I learned from you?
(Robert Woods walks back over to chime in)
Sarina: Or what has Woody (Robert Woods) taught you?
John: I learned a lot from Rob Woods. I learned how to learn this playbook. A guy like Rob is in tune with what's going on at every position. I would say Rob and TG (Todd Gurley) taught me how to study the playbook. And understanding and putting two and two together.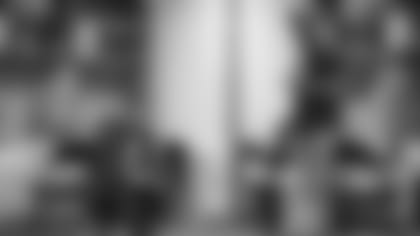 Sarina: Does the running backs group have a group chat? And if not, why are you not on it? (laughs)
John: Yes, the running backs at the Rams have a group chat. And, yes, I am a part of the group chat.
Sarina: Who is the person that texts the most in the group chat?
John: Nobody texts the group chat the most. We don't blow each other up in the group chat. I feel like we're all respectful of each other's time.
Sarina: What is your role in the group chat?
John: I hit the boys up and ask them what they want from Popeyes. (laughs)
Sarina: Skateboarding… what's the hardest trick you've done?
John: A 360 heel flip. (John proceeds to show me what it looks like with the skateboard sitting by his locker)
Sarina: You find yourself in front of a wood chipper, and you are holding your two skateboards in each of your hands. Which one is sawdust? Which one do you say goodbye to?
John: Man, I think I would jump in that wood chipper myself before I throw my skateboards in there. (He takes a moment to reevaluate his answer) As a matter of fact, if I had to pick a skateboard to throw in there, sorry (professional skateboarder) Paul (Rodriguez), sorry P. Rod.
Sarina: Why does Paul go?
John: Because P. Rod gave me a few boards. Shout out to Paul Rodriguez.
Sarina: So you can give away one of them?
John: I wouldn't necessarily say, give it away, but I could donate it to some sawdust.