Friday marks a special day for the eight 2019 Rams draft picks, who paid a visit to the franchise's business office to sign their first NFL contract.
As top selection, safety Taylor Rapp and the rest of the class of 2019 filed through the office of Chief Operating Officer & Executive Vice President of Football Operations Kevin Demoff, theRams.com was there to gather each player's thoughts as they put pen to paper.
"It feels great. This is the moment I've been dreaming of my whole life. To finally put pen to paper, it's an amazing feeling. … I think for me it all just comes back to hard work and how much work you're willing to put in — your drive. As a kid, I've always had this dream, so for me it always just comes back to how much work you're willing to put in to get to this point."
— S Taylor Rapp
Safety Taylor Rapp was Los Angeles' first pick in the 2019 draft, and noted that while the first few weeks of his NFL experience seemed a bit surreal, everything now feels more official since he put pen to paper.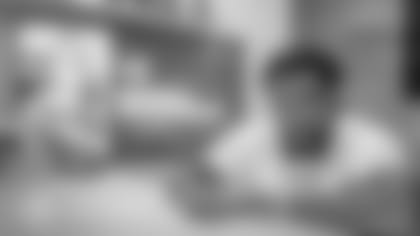 "It's an amazing feeling. It's a dream come true and I give all thanks to God. … I think every kid growing up has this dream. And for me to make this dream come true, it's a special moment."
— RB Darrell Henderson Jr.
Los Angeles' second pick, running back Darrell Henderson Jr., said he's learned a lot from his position coach Skip Peete since arriving for the offseason program. He's looking forward to showing what he can do during the preseason.
"I did a lot by myself, but with the help of a lot of people, whether it was resources, their help, their time, words of wisdom, knowledge, anything. There are too many people between the Michigan connections I've made, out here in L.A., just all over — a lot of people have been really generous with their time and their resources to help me get here, so I'm thankful to all those people."
— CB David Long Jr.
Cornerback David Long Jr. said he's glad to have everything set in stone now that the contract is signed. He also noted feeling plenty of gratitude for all those who have helped him along the way to make it to this point.
"This is a dream come true. I'm kind of at a loss for words. My parents know how hard I've worked for this and they know how long I've worked for this. So they pretty much already know how I'm feeling right now."
— OL Bobby Evans
A third-round selection, offensive lineman Bobby Evans straight away mentioned his parents as a significant influence in his life, noting that he's long been telling them that he would make it to the NFL. Now, that dream is a reality.
"It's really cool, I think a lot of the guys are really helpful and are trying to make me better. I like just sitting back and watching the older guys and doing what they do and if I screw up they will come and correct it and help me through it, figure out if something is up. It really seems like a bunch of great guys and I'm enjoying it so far."
— DL Greg Gaines
Los Angeles' second pick from the University of Washington, defensive lineman Greg Gaines said he was "pretty ecstatic" about signing his first pro contract, before delving into how much he's enjoyed getting to know the veteran teammates at his position — like Aaron Donald and Michael Brockers.
"I think when I got here and came off the plane it kind of just hit me, like holy crap we are here in L.A. Then when I got the chance to go out there with the team and be with the O-line, I think it all kind of hit me like this is real. The dream, I can remember being a little kid and going to my cousin's' high school games and being like I want to be like that, then being high school and wanting to be a college player, and the same thing when I was in college — I want to be a pro player. So just the timeline of events that have gotten me to this point has been really cool."
— OL David Edwards
David Edwards entered the NFL after a strong collegiate career at Wisconsin, and said on Friday that he's grateful to be a Ram with the opportunity that's in front of him.
"It's pretty dope. It feels good, it's something that you dream about and see pictures all the time — just it's a blessing. All this work that you've been putting in the past couple of years coming to fruition. Feels good, definitely exciting, I'm calling my parents right after this, talking to them, thanking them, and everything like that."
— S Nick Scott
A safety out of Penn State, Nick Scott mentioned the sacrifices his mother made for him and his siblings to play sports as kids, and then the lessons he learned from his father when asked who he was thinking about when signing his first contract.
"I feel like I went through a lot, been through a lot to get here, but I definitely didn't get here just to get here. I'm definitely here to keep striving, keep attempting my growth and I believe I can do that here in Los Angeles."
— LB Dakota Allen
Los Angeles' last pick of the 2019 draft class, Dakota Allen, said he feels like signing his contract is both the culmination of a long process and the beginning of another. He mentioned that he couldn't wait to call his family to share in the moment.
Check out photos of the 2019 draft class signing their first NFL contract!