It is Mock Draft Monday on theRams.com, where we will be taking a look at experts' projections for who the Rams will select in the 2023 NFL Draft.
Given the departures in the secondary since the start of the new league year, it's no surprise that cornerback is one of the most widely-projected positions for the Rams to address in this year's draft, with a couple safety projections in there as well. Wide receiver also pops up in two of the projections.
Here's a roundup of the latest predictions: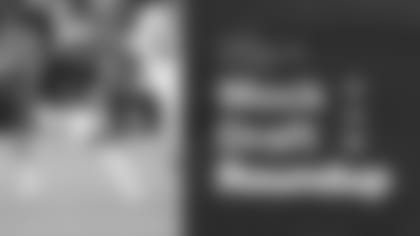 Expert: Gordon McGuinness, analyst
The pick(s): South Carolina CB Cam Smith (Round 2, No. 36 overall, pictured above); Illinois S Sydney Brown (Round 3, No. 69 overall); Stanford WR Michael Wilson (Round 3, No. 77 overall)
Notes: Smith (6-foot-1, 180 pounds) had 27 tackles, five pass breakups and one interception while starting nine of 11 games played last season, missing some time reportedly because of a concussion.
The 5-10, 2-11 Brown tied for third in the FBS in interceptions with six, also added 59 tackles and seven pass breakups in 12 starts to earn First-Team All-Big Ten recognition.
Wilson also missed time due to injury in 2022, missing the second half of the season, but managed to produce 26 catches for 418 yards and four touchdowns in six starts for All-Pac 12 honorable mention recognition.
Expert: Chad Reuter, draft analyst
The pick(s): Notre Dame edge Isaiah Foskey (Round 2, No. 38 overall in projected trade with Seahawks); Kansas State CB Julius Brents (Round 3, No. 69 overall); Illinois' Brown (Round 3, No. 77 overall)
Notes: Foskey (6-5, 264) led the Fighting Irish with 14 tackles for loss, and his 11 sacks tied for sixth-most in the FBS as he started 12 games and earned Second-Team All-American recognition. He was also a finalist for the Ted Hendricks Award, given annually to the nation's top defensive end.
A First-Team All-Big 12 performer in 2022, Brents led the Wildcats with four interceptions, also adding 45 tackles and four pass breakups in 14 starts.
See the PFF section for notes on Brown.
Expert: Chris Trapasso, NFL Draft analyst
The pick(s): Oklahoma OT Anton Harrison (Round 2, No. 36 overall); Tulane LB Dorian Williams (Round 3, No. 69 overall); Iowa State WR Xavier Hutchinson (Round 3, No. 77 overall)
Notes: Harrison (6-4, 315) was selected First-Team All-Big 12 by conference coaches and The Associated press after starting all 12 regular season games on the Sooners' offensive line. He started the 2022 season-opener at right tackle before moving over to left tackle for the remaining 11 games.
Williams (6-1, 228) tied for ninth in the FBS last season with 132 total tackles, adding a team-high five sacks, plus two interceptions, seven pass breakups and a pair of forced fumbles for the Green Wave to earn First-Team All-AAC recognition.
Hutchinson (6-2, 203) broke his own single-season record with 107 catches for the Cyclones in 2022, also finishing with 1,171 receiving yards which ranked second-most in a single season in program history. Topped off by six touchdown catches, his 2022 campaign garnered First-Team All-American recognition from The Associated Press and Pro Football Focus, in addition to First-Team All-Big 12 recognition from conference coaches and the AP.