It is Mock Draft Monday on theRams.com, where we will be taking a look at experts' projections for who the Rams will select in the 2023 NFL Draft.
This edition follows the 2023 NFL Scouting Combine – though some of the mock drafts were published during that time – and highlights potential tight end, linebacker, edge and offensive line targets for the Rams.
Here's a roundup of the latest predictions: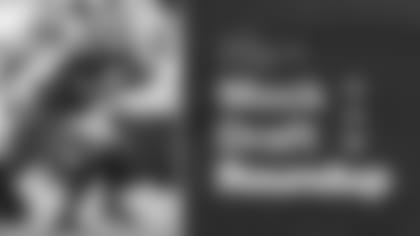 Expert: Doug Farrar, NFL Editor
The pick(s): Georgia TE Darnell Washington (Round 2, No. 36 overall, pictured above); Alabama LB Henry To'oTo'o (Round 3, No. 69 overall)
Notes: Washington (6-foot-7, 264 pounds) earned Second Team All-SEC recognition in 2022 after posting 28 catches for 454 yards and two touchdowns while starting 14 of 15 games for the repeat national-champion Bulldogs.
To'oTo'o (6-1, 227) was a First-Team All-SEC choice by conference coaches last season after finishing second on the Crimson Tide and ninth in the conference in tackles with 94. He also added eight tackles for loss and 2.5 sacks while starting in 13 games.
Expert: Damian Parson, National Scout
The pick(s): Auburn EDGE Derick Hall
Notes: A First-Team All-SEC Selection, Hall (6-3, 252) registered a team-high 12 tackles for loss and seven sacks last season for the Tigers, plus 60 total tackles, an interception and two forced fumbles in 12 starts.
Expert: Dalton Miller, Lead Analyst
The pick(s): Oklahoma OT Anton Harrison
Notes: The 6-4, 315 Harrison was a First-Team All-Big 12 selection by conference coaches and The Associated Press after starting all 12 regular season games on the Sooners' offensive line. He started at right tackle in their season-opener before moving to left tackle for the remaining 11 games.