Our 2023 opponent breakdown series continues with Los Angeles' Week 8 road opponent, the Dallas Cowboys (Oct. 29, 10 a.m. PT – FOX).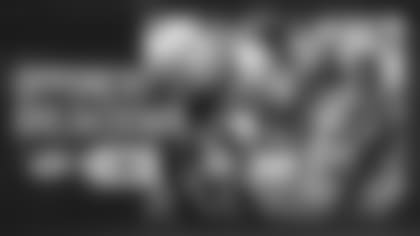 2022
For the second-straight year, the Cowboys authored a 12-5 regular season record under head coach Mike McCarthy, following an NFC East title in 2021 with a second-place finish in the division in 2022.
An offense that scored 20 or more points in 13 of 17 regular season games was aided a defense that held opponents to 20 or fewer points in 12 of those contests; at the end of the regular season, Dallas' offense ranked 11th in total yards per game and fourth in points per game.
The success was all the more impressive considering that starting quarterback Dak Prescott suffered a fractured thumb in the Cowboys' season-opener against the Bucs that sidelined him for the next five games and veteran backup Cooper Rush was forced into action.
Prescott was sharp in Dallas' wild card game against the Buccaneers in Tampa, completing 25 of 33 passes for 305 yards with four touchdowns and no interceptions. However, the Cowboys' season would end with a 19-12 loss to the 49ers in the divisional round, in part because of Prescott's two interceptions and kicker Brett Maher missing his fifth extra point of the playoffs.
Key changes
The biggest was releasing longtime starting running back Ezekiel Elliott, who had rushed for 8,262 yards and 60 touchdowns in 103 career games since being drafted fourth overall by Dallas in 2016.
The Cowboys also parted ways with offensive coordinator Kellen Moore, who had held the position since 2019 and later took the same role with the Chargers this offseason. Moore was replaced by Brian Schottenheimer, who spent the 2022 season as a consultant for the team. However, McCarthy will reportedly be the one calling plays in 2023.
Head coach
McCarthy enters his fourth season as head coach of the Cowboys. He has compiled a 30-20 regular season record and 1-2 playoff record through his first two years.
What to watch for
Cowboys offense under McCarthy's playcalling
Will Dallas have a markedly different offense with McCarthy calling the plays?
McCarthy has served as the primary playcaller as a head coach before, doing it for all but one season (2015) in his 13 as head coach of the Packers from 2006-2018. In nine of those seasons, Green Bay had a top-10 offense in terms of total yards or points; it ranked in the Top 10 in both for five-straight seasons from 2007-11, then again in 2013, 2014 and 2016 – so eight of those 13 seasons.
While the Packers had a top-10 run game once, they had a top-10 passing game (in terms of yards per game) in 11 of those 13 seasons even though a significant portion of that stretch (2010-15, 2017) saw them in the middle of the league when it came to total number of pass attempts.
So, on paper, the biggest difference would likely be in the passing game and for Prescott, whom the Rams did not face last season because that game landed in the stretch he missed due to the thumb injury.