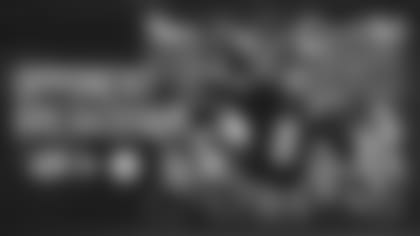 2022
Despite winning just two of their first eight games, a post-bye week turnaround managed to almost salvage the Steelers' season.
Installed as the starter in Week 5, rookie quarterback Kenny Pickett helped lead the offense as a stout Pittsburgh defense held 8 of its final 9 opponents to under 20 points after their Week 9 bye, winnings seven of those nine games.
Within that was a four-game win streak over the final four weeks of the season, putting them in position to potentially grab an AFC wild card playoff spot with some help. While the Steelers won their Week 18 game against the Browns, they needed losses by both Dolphins and Patriots to get into the postseason – neither of which happened, ending their season with a 9-8 overall record and no playoff berth.
On offense, running back and 2021 first-round pick Najee Harris authored his second-consecutive season with 1,000 or more rushing yards.
Key changes
The two most notable acquisitions came through free agency and the draft in the form of giving Pickett more help heading into his second season.
Pittsburgh first acquired wide receiver Allen Robinson II in a trade with the Los Angeles Rams on April 21. It then used its first-round pick (No. 14 overall) in this year's draft on Georgia offensive tackle Broderick Jones.
Jones wasn't the only move made in an effort to upgrade the offensive line – the Steelers also signed a trio of veterans in guard Nate Herbig, guard Isaac Seumalo and offensive lineman L'eRaven Clark this offseason.
Head coach
Mike Tomlin enters his 17th season as head coach of the Steelers. He has posted a 163-93-2 regular season record and 8-9 playoff record through his first 16 years and is currently the second-longest tenured active NFL head coach, behind the Patriots' Bill Belichick (entering 24th season).
What to watch for
The development of the Steelers offense, and facing a stout Steelers defense
After biding his time for four weeks to take over as the starter, Pickett enters his first full offseason as the Steelers' QB1.
In 2022, he posted a 7-5 record as a starter, completing 63 percent of his passes for 2,404 yards with seven touchdowns against nine interceptions. Now, he has reinforcements at offensive line and wide receiver heading into an important second season.
How the Steelers offense – which ranked 23rd in total yards per game and 27th in scoring – developments and ultimately progresses will be tied into Pickett's development.
While he didn't have a multi-passing touchdown game as a rookie, the most promising early sign of progress was the game-winning drives he led against the Saints in Week 10 and the Raiders in Week 16.
As the Rams' defense prepares for that matchup, the Rams' offense will have a strong test facing a Steelers defense that returns many of the core contributors to a unit that allowed the 13th-fewest total yards of offense per game and 10th-fewest points per game in 2022.