Now that the Rams' 2023 schedule is officially out, it's time to resume our offseason opponent breakdowns on theRams.com.
The series kicks off with Los Angeles' Week 2 home opponent and Week 18 road opponent, the San Francisco 49ers (Sept. 17, 1:05 p.m. PT on FOX in Week 2; TBD in Week 18).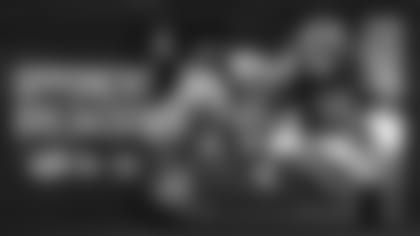 2022
The 49ers experienced a somewhat rocky start to their 2022 campaign.
While their defense was healthy, their offense had to deal with not. Tight end George Kittle missed the first two games of the season because of a groin injury and starting quarterback Trey Lance suffering a season-ending ankle injury in Week 2 against the Seahawks. Lance's injury came as 2021 leading rusher Elijah Mitchell was sidelined by an MCL sprain in the season opener that put him on IR from Weeks 2-7 (the first of two stints on IR for the same injury for Mitchell; he was later placed on it again after Week 12).
Re-signing veteran quarterback Jimmy Garoppolo earlier in the offseason proved pivotal. Stepping in for Lance, he helped guide San Francisco – 4-4 at its Week 9 bye – to a four-game win streak before suffering what was ultimately a season-ending foot injury. Brock Purdy – the last pick in the 2022 NFL Draft – took over under center in Week 14 and helped San Francisco extend that win streak to nine games. Turnover at quarterback was offset by a defense which held seven of the nine opponents in that stretch to under 20 points, as well as the midseason trade for running back Christian McCaffrey, as they finished the regular season 13-4.
All told, the momentum carried them to their second-consecutive NFC Championship appearance, but it was once again met with a loss as they fell to the Philadelphia Eagles 31-7. Purdy sustained an elbow injury in the game, and his backup, Josh Johnson, was later knocked out of it with a concussion. Purdy was forced back into the game as a result but unable to throw – he completed just two short passes for four yards upon returning – which effectively limited the 49ers to running the ball.
Key Changes
DeMeco Ryans, who had been on the 49ers' coaching staff since 2017 and served as defensive coordinator the last two seasons, departed to become the next head coach of the Houston Texans. San Francisco replaced Ryans by hiring veteran defensive coordinator Steve Wilks, who spent last season as defensive pass game coordinator and secondary coach and later interim head coach for the Carolina Panthers.
From a personnel standpoint, the biggest offseason addition was former Eagles defensive tackle Javon Hargrave, who they signed to a lucrative four-year deal following a career-best 11 sacks last season. They also signed quarterback Sam Darnold to a one-year deal.
The biggest roster departures were Garoppolo – who later signed with the Las Vegas Raiders – and veteran kicker Robbie Gould, who became an unrestricted free agent at the beginning of the new league year and remains unsigned.
Head coach
Kyle Shanahan enters his seventh season as head coach of the 49ers, compiling a 52-46 regular season record and 6-3 playoff record through his first six years.
What to watch for
Who the 49ers decide to start at quarterback will likely be a mystery until Week 1, which creates some uncertainty for the Rams and their preparation for Week 2.
The Rams have yet to face Lance, the No. 3 overall pick in the 2021 NFL Draft. In every matchup since 2019, it's been Garoppolo as the starter.
This year, Purdy's offseason elbow surgery, Lance's limited experience (and aforementioned significant draft investment) and the arrival of Darnold cloud the picture of who the Rams could face in Week 2.
49ers general manager John Lynch in March said that Purdy, if healthy, is in the driver's seat to be the starter. At the same time, in that same month, Shanahan at the NFL Annual Meeting said they would have a better idea of a timetable for Purdy's return – i.e., six months or eight months – three months after surgery, which Purdy underwent March 10.
If Purdy is the leader to start, but isn't ready for the beginning of the season, does San Francisco go with Lance? Or does Lance's inexperience – 8 games played over the last two seasons – led to the 49ers going with the veteran Darnold until Purdy is ready?