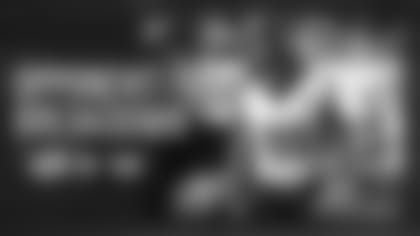 2022
Though they won their season-opener against the Jaguars, the Commanders experienced a four-game losing streak before getting their second win of the season. But in that second victory, starting quarterback Carson Wentz suffered a fractured finger.
With backup Taylor Heinicke stepping up, Washington won six of its next seven games before tying the Giants 20-20 in overtime. Even when Wentz was healthy enough to play, Heinicke remained the starter until being benched – for Wentz – in the fourth quarter of their Week 16 game against the 49ers.
Despite that instability at quarterback, the Commanders entered Week 17 with a 7-7-1 record and in control of their own playoff destiny: Win their final two games, and they would capture the No. 7 seed in the NFC playoff picture. Instead, they lost to the Browns 24-10, and that result, coupled with wins by the Lions and Packers, eliminated them from postseason contention. Washington started rookie fifth-round draft pick Sam Howell at quarterback in their final game of the season.
Washington ranked seventh in total defense and third in points allowed per game despite not having star pass-rusher Chase Young for the majority of the season as he recovered from a 2021 torn ACL. Young did not make his 2022 debut until Week 16.
Key changes
The Commanders released Wentz after just one season. Meanwhile, Heinicke signed a 2-year deal with the Falcons.
Thus, Washington decided to give Howell a crack at QB1, while also signing veteran Jacoby Brissett to compete with, or at least backup, Howell.
Washington also fired offensive coordinator Scott Turner and replaced him with Eric Bieniemy, who previously held the same position with the Chiefs from 2018-22.
Head coach
Ron Rivera enters his fourth season as head coach of the Commanders. He has compiled a 22-27-1 regular season record and 0-1 playoff record through his first three years.
What to watch for
Another new offense to defend, and Chase Young
For the third-straight week, the Rams will be tasked with preparing for a team with a new offensive identity, in terms of scheme and who's under center.
The two biggest questions: What the offense will look like under Bienemy, and whether it will still be Howell at quarterback or Brissett instead.
As for Howell and Brissett, Howell is being given every opportunity to become entrenched as the starter, but if he struggles, how long of a leash does he have before they turn it over to Brissett? If Howell plays well enough, he should still be the starter in Week 15.
Meanwhile, Young had his fifth-year option declined, which means 2023 marks the final year of his rookie contract. He will be plenty motivated to earn a lucrative long-term deal. When last fully healthy, he won Defensive Rookie of the Year after posting 7.5 sacks, four forced fumbles, three fumble recoveries and 44 total tackles in 15 games (all starts).