SANTA CLARA, Calif. –Though the Rams are eliminated from playoff contention following Saturday's loss to the 49ers, that doesn't mean they will use it as an excuse to not play up to their standard next week.
The same mindset Los Angeles has had all season following a loss is the same it will take into the season finale: Responding by playing with pride.
"We've got an opportunity to finish this season the right way, finish with a winning season, and we've got a bunch of winners in that locker room," Rams head coach Sean McVay said. "That's what I expect us to do as we move forward into Week 17 against a tough Arizona Cardinals (team)."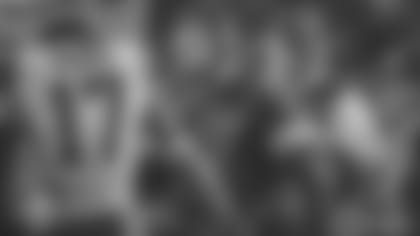 Both team and individual milestones are up for grabs in the Rams' final game at the Coliseum.
A win over the Cardinals would guarantee Los Angeles a winning record not only this season, but in each of the first three in the McVay era.
From an individual standpoint, Tyler Higbee needs just 22 yards to set a single-season franchise record for most receiving yards by a tight end. He has 650 this season. Higbee's 61 catches are already a single-season franchise record for a tight end.
A rushing touchdown would move running back Todd Gurley past Marshall Faulk to become the Rams' all-time leader in rushing touchdowns with 59. A performance of 400 or more passing yards from quarterback Jared Goff would set a franchise record for most 400-yard games in a career. He is currently tied with Marc Bulger with four.
"Disappointing year, but we've got one more game," Gurley said. "Finish on a good note, having a winning season."
More important than any individual accolades, though, is using the season finale to show who the Rams are and what they're about, according to both Gurley and left tackle Andrew Whitworth. The Rams' mindset will be the same against the Cardinals as it was against the 49ers, according to Whitworth.
"To me, we'll be as fired up next week as ever," Whitworth said.
Defensive tackle Aaron Donald shared similar sentiments.
"All we can do now is finish this last game strong, and try to prepare and come back better next year," Donald said.
Next year brings a new era, more specifically a new venue for home games in SoFi Stadium. Goff wants to ensure a proper sendoff at the Coliseum.
His mindset: "Being who you say you are."
"We've got a good group in there, and even though we are eliminated, you do play for some pride at this point," Goff said. "As tough of a pill as that is to swallow, it's what you have to do. We've got the guys in there that will do that, and I believe in that.
"It will be the last one at the Coliseum, you want to go out on a good note and we just want to finish this season with a win. There's no consolation to not making the playoffs, but from a pride standpoint, you want to finish on the right foot."