"I'd like all of you to leave here today knowing one really important thing," said Rams starting Safety JOHN JOHNSON III to approximately 300 youth at Roosevelt High School in Boyle Heights. "Character and integrity are about doing the right thing when nobody is looking."
In partnership with the Anthony Munoz Foundation, the Los Angeles Rams hosted a PLAY 60 Character Camp designed to serve Hispanic youth (ages 9-13) with little or no football experience and to make a positive impact through teaching football skills, emphasizing exercise, and reinforcing the importance of character in athletics and life.
The program worked in collaboration with USA Football and its NFL FLAG curriculum, which encourages participants to be physically active through non-contact, continuous action while learning the fundamentals of football, and lessons in teamwork and sportsmanship. The Character Camp also taught youth character values that are core to the Los Angeles Rams and the Anthony Munoz Foundation while echoing the NFL's PLAY 60 message, which encourages youth to be active for a recommended 60 minutes every day.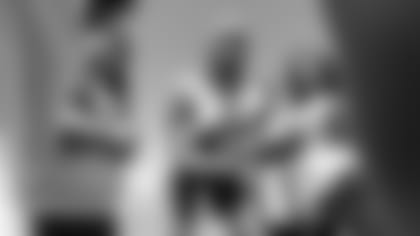 Joining their teammate Johnson to lead the kids through drills and quarterback the flag football scrimmages was Safety MARQUI CHRISTAIN and Cornerback BLAKE COUNTESS.
As the players took their first steps on the Roosevelt High School field, many of the youth participants left their drills to congregate around the players who were equally as excited to begin engaging the kids in some PLAY 60 fun. In his second year with the Rams, Johnson III remembers what it was like to have an NFL player visit him at a local camp in his hometown.
"It's super important to come out and give back to the community," said Johnson III. "When I was younger, I had guys that I looked up to that were NFL players in my area come out and give back and I looked at those guys as super heroes...I hope these kids remember this day forever."
For 5th grader Ethan Robles, the day certainly will be remembered. Watching the Rams games every Sunday with his family, Robles was ecstatic about the opportunity to meet the players he cheers for on a weekly basis during the NFL season in Los Angeles.
"I feel honored and excited because the Rams are my favorite football team and I can't believe I just had the opportunity to meet them," said Robles.
Week Three's NFC Special Teams Player of the Week, Blake Countess, looks forward to opportunities to teach youth the game of football. Through teaching and mentorship, he knows he can be a positive role model for others. On the other hand, Countess believes he can also be a beneficiary of the youth's passion and excitement.
"I know that a lot of kids look up to us as role models, but I also love being out here because it makes me feel like a kid again," said Countess. "I see myself in them, so I want to make them smile and have some fun and show them how to be a great sport."
The Character Camp was part of a series of NFL PLAY 60 camps taking place over the summer and fall as part of the NFL's year-round Hispanic outreach initiative, focused on offering youth opportunities to play and experience the game of football. Additional NFL PLAY 60 camps will take place in Mexico City when the Rams play the Chiefs on Monday Night Football at Estadio Azteca on November 19.
"I've been in 27 of the NFL markets working specifically with the Hispanic community. They have a thirst for the game and we know that it's the fastest growing demographic in the United States," said Ryan Betscher, Chief Operating Officer for the Anthony Munoz Foundation. "The Rams have done a great job coming back to Los Angeles and working hard to support the Hispanic communities. When the players have an off day, they're coming out in the community, they're at the schools, they're with the kids, parents and teachers. It makes the players more relatable and you can tell they want to set examples for the youth in the city."
If you'd like to know more about the Rams community outreach initiatives, please visit therams.com/community.