Maybe you've heard, maybe you haven't, but the Rams are leading the league in rushing.
Los Angeles is averaging 153.1 yards per game on the ground — 16 yards more per contest than the No. 2 49ers.
The Rams being No. 1 in the category maybe isn't that much of a surprise, given how well running back Todd Gurley has played to vaunt himself into the MVP conversation for a second consecutive year. But apparently Gurley didn't even know the Rams were running the ball quite that well until it was brought up to him on Thursday.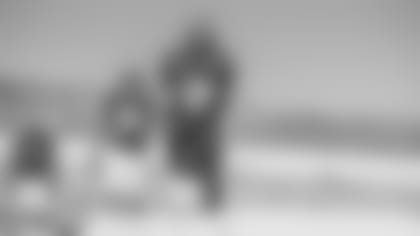 "I just found that out just now. I didn't even know that, honestly," Gurley said — hard to believe as that may be. "But, it's cool. That's why we work all offseason to — whatever it is — be the No. 1 offense, defense, special teams. A lot of work still, but I feel like we've been doing a pretty good job."
"Pretty good job" might be a bit of an understatement. Not only do the Rams lead the league in rushing, but they entered Week 8 leading the league in attempts as well. Despite that, L.A. averages 4.9 yards per carry. That's well above the No. 2 and No. 3 teams in attempts heading into Week 8 in the Texans (3.5 yards per carry) and the Patriots (4.2 yards per carry).
Left tackle Andrew Whitworth said after defeating the Broncos in Week 6 that the Rams feel they can run the ball on anybody, and by and large that's been true. And it's something the offensive line takes pride in. 
"That's huge — it's just our ability to do the right things every single time," left guard Rodger Saffold said this week. "I will say this, it takes all 11 to be able to get the run game the right way, and I think that our guys on the outside don't get as much credit as well. Some of those long runs are from the wide receivers blocking down field and Todd being able to make either one person miss, or just being able to get to that third level untouched. It's been huge, it's been huge — we take a lot of pride in that."
And it's not just Gurley — pretty plainly since he's averaging 98.0 yards per game, leaving just over 50 more yards to gain. The club has been getting to that with No. 2 running back Malcolm Brown — who's picking up 26.0 yards per game — and then L.A. is also using jet sweeps with its wide receivers. Most notably that came with wideout Robert Woods, who took a 56-yard jet sweep against the Seahawks in Week 5. 
"Malcolm does a great job. He came in and did a great job last game, leading rusher. Then, we've got guys [at wide receiver] — F, Z, Y — all of us can take jet sweeps and fly sweeps and take them to the house or get 20, 30 yards and get a first down," Gurley said. "So, that just tells you about the balance of our offense. You don't know who's going to get the ball. It's not just a one-man show."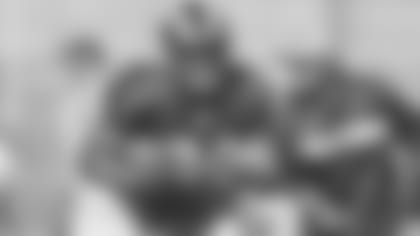 But the effectiveness in the run game has larger implications across the offense. Head coach Sean McVay often talks about marrying the run and pass, providing the illusion of complexity for a defense. The Rams use a lot of play-action passes, and because L.A. is No. 1 in rushing, opposing players on the second level of a defense — usually linebackers — must honor the run threat every time.
"I think the combination of the running game and the play-action game looking so similar really helps both be productive on first and second down," run game coordinator/offensive line coach Aaron Kromer said this week. "We've been fortunate to have productivity on first down, which has allowed us to do some things on second down that you — a lot of run-pass combination in that situation. So, when you're productive on first, you get an opportunity on second and I think that's where it starts to compound."
"It helps a lot," quarterback Jared Goff said. "Whenever we're running the ball well and we can use that and marry that with our pass game so well. We've got a guy like Todd and Malcolm who run the ball so well can bring those guys up. It definitely helps a lot. Something I'm definitely grateful for."
And even though McVay noted numbers can be misleading, he did say that the Rams have run the ball efficiently all season.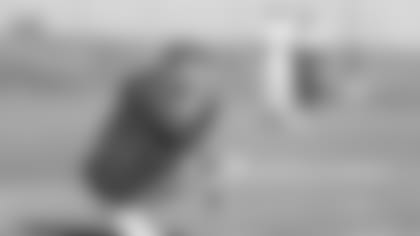 "I think coach Kromer and, really, our assistant coaches as a whole have done an excellent job setting up plans that are conducive for success based on what that defense is presenting from a front, from a coverage structure, some of the pressures," McVay said. "That's the biggest thing, now going into year two where we're all operating, running all Rams system. It's about the players first, but then it's also about our ability as coaches to echo and articulate, 'What are we trying to get done here?' I think they're understanding their ownership, you can continue to hear us say that intent, but our players truly do understand the intent of certain calls in different phases of our run game that we're trying to activate. I think that understanding they have is allowing them to be more efficient and do a great job right now."