On Thursday, May 17th, the Los Angeles Rams paid a visit to 96th Street STEAM Academy Elementary school in South LA to celebrate L.A. Unified School District's student and teacher of the month.
As the stage curtains opened to an onstage ukulele performance, courtesy of 96th Street's 3rd grade music aficionados, the student-body filled the auditorium to recognize some of their school's very best achievers, 5th grader Ruben Alcaraz and teacher Alexandro Gomez.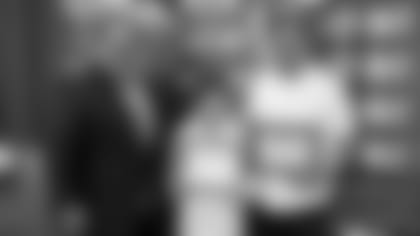 A student at 96th Street STEAM Academy Elementary since Kindergarten, Ruben Alcaraz has developed a reputation for being a "math wizard" with his uncanny ability to see numbers in unique ways and solve difficult equations. He enjoys playing soccer and has a passion for video games and one day aspires to attend MIT or UCLA to be a video game engineer and eventually own his own video game company. Alcaraz is also a tremendous helper in the classroom and takes pleasure in assisting peers with their math assignments.
"I don't like seeing my peers struggle," said Alcaraz. "I always want to see them be the best they can be."
As a Nationally Board-Certified teacher who can teach anywhere in the country, 5th grade teacher Alexandro Gomez chooses to provide a strong education for the youth in the neighborhood he was born and raised in. He's highly respected and loved by his students due to his ability to meet their needs as diverse learners. Described by his colleagues and students as passionate and empathetic, Gomez attends student activities when he's invited, provides parent workshops, supports new and seasoned teachers, and creates engaging life-lessons for his students that are culturally relevant.
"I want to make sure that I give every child the education that they deserve," said Gomez. "There are a lot of challenges that we face, so it's important that we have the proper teachers who're providing guidance and leading these students in the right direction and I felt like the biggest impact and the biggest difference I can make is becoming a teacher."
The humble Gomez believes all teachers deserve some form of recognition for their efforts even though the praise is rarely expected or invited.
"I feel like this award should go to every individual that teaches and has a passion for what we do," said Gomez. "We don't do it for the recognition and we don't do it for the pay. We do it because we enjoy it and because it's a passion to inspire the minds of our youth."
The Rams joined a handful of notable community members to recognize L.A. Unified's Student and Teacher of the Month including: L.A. Unified Board Member Dr. Richard Vladovic, L.A. Unified Local District South Instructional Director Luis Heckmuller, CBS-2/KCAL-9 Vice President/News Director Tara Finestone, and CBS-2/KCAL-9 Sports Director Jim Hill.  
"We believe opportunities like these that can empower our future leaders, break the cycles of poverty, reassure that anyone can rise to prosperity, and most importantly, create a sense of community," said Rams Community Relations representative JOHNATHAN FRANKLIN.