The Rams have agreed to terms with running back Todd Gurley on a four-year extension that will keep him under contract with LA through the 2023 season.
The agreement comes just before Los Angeles is to start training camp for the 2018 season.
General manager Les Snead and head coach Sean McVay confirmed the extension in a press conference on Tuesday morning.
"What a special player he is," McVay said of Gurley. "I think last year's production isn't really a reflection of the value he provides because he did such a great job, but he's so much more than that to our team — the way that he competes in protection, the way that he works, and the way that rubs off on his teammates. And it's a great reflection of the job by Les, [VP football and business administration] Tony Pastoors, and [EVP of football operations] Kevin Demoff to be able to kind of target a lot of these core guys."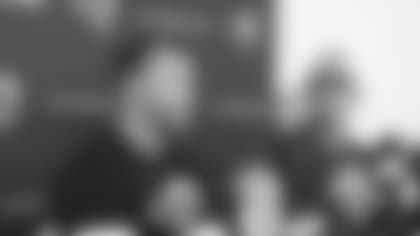 Gurley, the No. 10 overall pick in the 2015 NFL Draft, has been a staple of the Rams' offense since his rookie year. Despite coming off an ACL tear in his final season at Georgia, Gurley rushed for 1,106 yards and 10 touchdowns as a rookie — earning AP Offensive Rookie of the Year.
Then Gurley emerged as unquestionably one of the top players in the league in 2017, leading the Rams to their first NFC West title since 2003. Gurley was named AP Offensive Player of the Year after leading the league in yards from scrimmage (2,093), total touchdowns (19), and rushing touchdowns (13). He finished second in yards rushing as well (1,305) — just 22 yards behind Kansas City's Kareem Hunt, who played in Week 17 while Gurley received rest in preparation for the postseason.
Snead said the organization and Gurley's representation began discussing a potential extension for the Georgia product in the spring. The idea was to get ahead of the curve, as Gurley was already under contract with L.A. through the 2019 season.
"Like Sean mentioned, [he's a] big part of who we are and where we're going," Snead said. "And it's not only Todd, but a lot of other guys that we want to make Rams for a long time and be a part of the core that we're building here."
Gurley's extension is the second the Rams have reached with a key offensive player in the last two weeks. L.A. signed wide receiver Brandin Cooks to a five-year extension last week, also tying him to the club through 2023.
Los Angeles is slated to begin camp on Thursday at 3 p.m.
Check out the 88 players on the Rams roster heading into training camp.