The Los Angeles Rams and head coach Sean McVay are nearly finished fitting together the personnel puzzle ahead of the much anticipated 2018 season. In his second full year in L.A., McVay's offense is now on the map. In 2017, the Rams experienced the greatest turnaround of an NFL offense ever, finishing as the highest-scoring team in the league.
Despite offensive dominance last season, the Rams were missing legitimate production from the tight end position. With options like running back Todd Gurley, wide receivers Cooper Kupp and Robert Woods, and now-Chief Sammy Watkins on offense, shots downfield to starting tight end Tyler Higbee were few and far between.
Fortunately, the Rams have a few solid options at tight end, headlined by last season's starter Higbee. Pass game coordinator and tight ends coach Shane Waldron is looking for the same production from his tight ends as the rest of the Rams' revamped offense in 2018.
"I think as an offense, we're looking for production out of all of our eligible receivers. So I think the biggest thing is the quarterback doing a great job of sticking with his reads, and the plays come where they come within the reads of those and we're not forcing anything," Waldron said.
"It's a special thing to be a part of a group of receivers, running backs and tight ends that all have an excellent individual skillset and all are great with the ball getting distributed to where it needs to go."
So who will McVay put on the field Week 1 against the Raiders on Monday Night Football?
Third-year tight end Tyler Higbee started 16 games last season in Los Angeles. Higbee, listed at 6-foot-6 and 255 pounds, had 25 receptions last season and one touchdown.
Higbee is currently atop the Rams' unofficial depth chart heading into this week's practices and preseason game in Baltimore.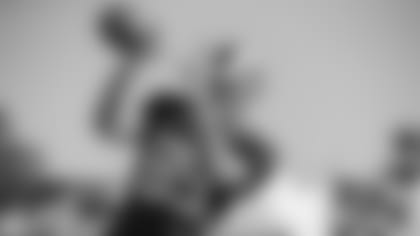 Waldron commended Higbee's versatility last week.
"Particularly I think, overall as a part of the offense, he does a good job of doing a little bit of everything. He does a lot of dirty work," Waldron said.
Throughout training camp many members of the Rams' team and coaching staff have expressed the importance of this year's team building chemistry and playing as a unit. It is no different for Waldron and his tight ends, specifically in the red zone.
"I think as far as his role in the red zone, just like anything else growing in his second year in this offense in particular. Just getting that rapport with [quarterback Jared] Goff, just like the rest of the tight ends — so you have a good rapport in the red zone and it'll probably come. You know what, every play is read out based on the coverage. So, control what we can control and then rely on Jared to read it out correctly."
Goff only targeted his starting tight end 45 times throughout the regular season in 2017, but that could change. Team insider Myles Simmons reported that Waldron and McVay have been working on running different personnel groups with multiple tight end sets.
A fellow tight end who could replace Higbee — or even play alongside Higbee — is second-year tight end out of South Alabama, Gerald Everett.
Everett recorded two touchdowns in his rookie season, on 244 yards in 16 games.
"I think he has done a great job. His daily approach has more than consistent. I think that's the thing you learn as a rookie. It is a job. It's different. There's no class that you to have to go to. There's none of that stuff in between," Waldron said. "So every minute of your day has to be accounted for with football in mind. He had that mind last year and I think this year he's really grasped that. You see his focus on the details and his attention to his alignments, assignments has just improved every day."
Before football as a profession, Everett had 12 touchdowns in his final two years at South Alabama. Everett was just slightly less productive than Higbee last season, finishing with about 50 fewer yards.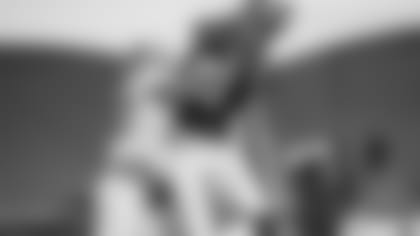 Everett has gained some attention in Rams' training camp, vaulting himself into the conversation of serious playing time. However, a recent shoulder injury may raise some question. Everett was left behind as the team took off for Baltimore early Sunday morning with an apparent shoulder injury.
"So with Gerald, he's got a shoulder sprain. You guys see him out here where he had a little splint. We're going to be smart with him," McVay said. So, he'll probably be doing rehab and different things like that for at least the next week or so."
Before injuring his shoulder, Everett made one of the most impressive catches of training camp thus far, skying linebacker Ramik Wilson on a jump-ball for a score.
The third and final serious competitor in the Rams' preseason tight end battle is former South Carolina State Bulldog Temmarick Hemingway.
Hemingway did not play a game for the Rams in 2017, following a fractured fibula in the preseason. Drafted in the sixth round in 2016, Hemingway may be the Rams' most physically impressive option at tight end.
Waldron was pleased with what he has seen from Hemingway since OTAs, especially with his size and ability on the line of scrimmage.
"The great thing with him, and I had mentioned this at the end of OTAs, he had really started to peak and picking back up where he was prior to his injury," Waldron said. "I think he did a great job that month in between of coming back and [being] ready to roll. We put the pads on and he's that same big, strong guy on the line of scrimmage that can give us that beneficial role as a tight end right there."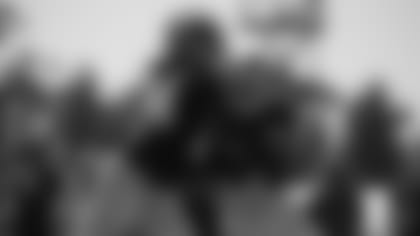 As the Rams join Baltimore on Monday for the first joint practice of the road trip, is seems Higbee and now Hemingway will be the primary options at tight end, despite Hemingway being listed at a third-string on the early depth chart, which is subject to change at any time.
The severity of Everett's shoulder injury is largely unknown, but is certainly an interesting development the final two weeks of training camp.