THOUSAND OAKS, Calif. –– The Rams have faced Russell Wilson 14 times, six since they returned to Los Angeles, so the quarterback's talent isn't exactly an unknown when their defense prepare to play against him.
And while he's posting career-highs in multiple statistical categories, Wilson has already been established as one of the game's best.
"Russell Wilson makes plays, we know that and we've played against him a lot," Rams defensive coordinator Wade Phillips said. "He's an elite quarterback."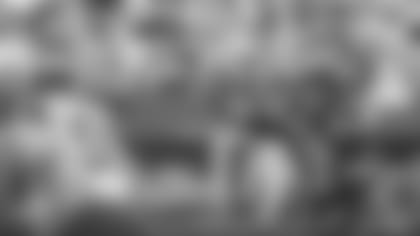 Now in his eighth NFL season, Wilson is off to his best start from a numbers standpoint.
He leads the NFL with a completion percentage of 72.9, while his passer rating of 118.7 ranks second in the league. It's the first time he's recorded a passer rating of more than 100 through his first four games.
Additionally, his eight touchdowns thrown match 2014 for his best total at the quarter mark of the season. This is also the first season he hasn't thrown an interception through the first four games, either. If he maintains his 8.6 yards per attempt average the remainder of the season, that would also be a new career-best.
"He's one of the best quarterbacks in the league. I literally just got done talking about him for 15 minutes, so my compliments are all spent," Rams safety Eric Weddle said. "He's amazing, a leader, amazing deep ball, improvise(s), special when those things happen. I could go on-and-on. ... We've got our hands full."
The Rams' best answer in an attempt to stop Wilson is DT Aaron Donald, who has enjoyed a different level of success against the Seahawks since entering the league in 2014.
In 10 games against Seattle, Donald has posted 10.5 sacks, 46 total tackles (17 for loss) and two forced fumbles. That sack total includes a three-sack performance in 2017, a game in which the Rams limited the Seahawks to just seven points.
However, just because he's posted those numbers doesn't mean he has fun trying to contain Wilson, whose ability to escape the pocket has contributed to a career 5.8 yards per carry.
"Nah, it's a headache. It's a headache chasing a guy around," Donald said. "I'd rather play against a quarterback that sits still."
Like Phillips, Rams head coach Sean McVay understands Wilson's playmaking ability comes from within and outside of the pocket and the test in front of them Thursday night.
"He's one of those guys that make so many plays," Rams head coach Sean McVay said. "He's an elite competitor and it's going to be a great challenge for us."