LOS ANGELES –– Minus-seven yards.
It's almost unthinkable in today's NFL, given the rapid pace at which offenses are setting new records. Yet 40 years ago, the Los Angeles Rams defense held the Seattle Seahawks offense to precisely that in a 24-0 victory on November 4, 1979 – a league record that remains unbroken to this day.
"No, I'm not surprised that it's still standing," Jack Youngblood, defensive end and captain of the 1979 Rams defense, told theRams.com in a phone interview this week. "I don't think that will ever (be broken). I mean, that's ridiculous (laughs)."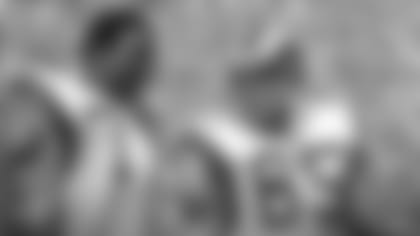 The tone was set early and established by halftime.
Seattle's offense managed six total yards in the first half, running 16 total plays while having possession of the ball for just seven minutes and four seconds. It didn't have a single completion nor a first down as Los Angeles jumped out to a 21-0 lead after the first 30 minutes of play.
QB Jim Zorn finished just 2 of 17 for 25 yards, his lone pair of completions going to WR Steve Largent with the longest going for 14. Though the NFL did not officially recognize sacks as a stat until 1982, Pro Football Reference estimates the Rams defense would've had six against the Seahawks that day.
The Seahawks entered the contest with a formidable ground attack, averaging 147.4 rushing yards per contest through the first nine games of the season, according to Pro Football Reference. While Zorn only accounted for 24.3 of those yards, he was averaging 7.8 yards per carry.
It makes sense, then, that the gameplan focused on preventing Zorn from escaping the pocket and making plays with his legs, according to Youngblood.
"They would have two running backs, and they would take that (second) running back and send him out to the flat," Youngblood said. "But sometimes they would try to cut us down, they would cut a defensive end – they would come back and (put a) crack (block) on him and let Zorn out of the pocket.
"Basically, we focused on that. It was an illegal play, because they're cutting back on your legs in the pocket there, which was actually dangerous for a defensive lineman. But we kept him in the pocket pretty good."
Advances in technology have given fans in attendance – and players watching from the sideline – a more comprehensive look at how teams are performing statistically during a game simply by looking up at a video board or scoreboard. Obviously, that wasn't the case in 1979, so the Rams defense never knew the Seahawks offense reached negative yardage while the game was being played.
"I don't think anybody knew during the game that the Seahawks had minus yards," former Rams defensive back Nolan Cromwell said. "It didn't end up on the stat board like it is now. You look up there, you see how many rushing yards, how many passing yards – we didn't have any of that type of stuff. We just played the game until the final whistle, and then everybody added up the stats to see what we did."
Youngblood said they just had two goals: Limiting the opposing team to three yards per carry and less than 150 yards passing.
"It was a feat that really surprised us at the time, but it's hard," Cromwell said. "It's hard to hold anybody to even (zero) yards. It doesn't surprise (me) that it's still standing, but it's a feat with what the offenses are doing today. You look at that and you're like, 'Gosh, how did they do that?'"
Indeed, the evolution of schemes and changes to player safety have helped produce offenses which likely won't have defenses coming close to the Rams' mark anytime soon.
In March 2018, the NFL passed a rule prohibiting defensive players from initiating contact with their helmets by lowering their heads. The league also contributed to an increased emphasis by officials on how roughing the passer was enforced thanks to a slight change in the rule's wording.
Part (b) of the roughing the passer rule previously stated: "When tackling a passer who is in a defenseless posture (e.g., during or just after throwing a pass), a defensive player must not unnecessarily or violently throw him down AND land on top of him with all or most of the defender's weight." The 'AND' was changed to 'OR' prior to the start of the 2018 season.
Combined with the increased prevalence of the spread offense, what followed, according to a January 2019 article from the New York Times, was all 32 NFL teams combining to score a new league record 1,371 touchdowns and the second-most total points with 11,292.
The NFL is celebrating its 100th season of football this year.
"Back then (in 1979), the offenses weren't as wide open as they are today – you know, the spread and all that," Cromwell said. "Dallas, maybe Minnesota, were the two teams that spread people out at all during those days, but the offenses today and the way the rule changes have affected the game, it's favoring the offense and favoring points, because that's what makes the games exciting for the fans. It's all about that."
The league's fact and record book for the 2019 season lists only the top three teams for fewest yards allowed in a single game, and the other two that join the Rams on the list are from 1967 (Oakland Raiders) and 1940 (Detroit Lions). Meanwhile, the second- and third-most yards gained by both teams in a single game in NFL history came this decade.
While the suggestion of a team in this era coming close to Rams' record may be comical to Youngblood, he isn't wrong – and he likely won't be for a long time.
"I don't think anybody will come close to it, not at all, because of the rules changes and the way that offenses and defenses look at the ballgame today," Youngblood said. "They're playing 7-on-7 out there – it's more like practice today than it is when we were playing the ballgame."