After taking their home opener with a 27-9 win over the New Orleans Saints, the Rams now begin preparations for their second consecutive opponent coming off a Monday night game in the Cleveland Browns.
Sunday night's game at Cleveland will be the first meeting between the two teams since the Rams relocated to Los Angeles. The Rams and Browns last faced off on October 25, 2015 in St. Louis, a 24-6 Rams win. Overall, it's just the third meeting between both clubs this decade.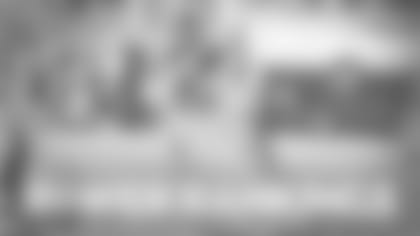 Every week, TheRams.com will be taking an aggregate look at where the team ranks in different outlets across the sports media landscape. Here are the power rankings for the Rams heading into Week 3:
"Drew Brees' thumb injury took a lot of juice out of Sunday's NFC Championship Game rematch between New Orleans and Los Angeles, but don't hate on the Rams if they don't feel any less pleased about a convincing win. The offense remains out of sync when compared to the best times of the last two seasons under Sean McVay, but Sunday brought progress. The most impressive play? A gorgeous 57-yard rainbow from Jared Goff to Brandin Cooks to set up L.A.'s opening field goal. Cooper Kupp, meanwhile, has not skipped a beat following reconstructive knee surgery. He's been Goff's favorite receiver this season, leading the team with 19 targets. His 66-yard catch-and-run to the goal line showed speed and power that backs up the offseason reports that he's more explosive now than he was before the ACL tear. The Rams are 2-0 and have yet to hit their stride. Good place to be."
"Pleasant surprise: It has to be receiver Cooper Kupp. Ten months after Kupp underwent reconstructive knee surgery to repair a torn ACL, the third-year slot receiver has resumed his role as quarterback Jared Goff's go-to receiver. In two games, Kupp has caught 12 passes for 166 yards. In a Week 2 win over the Saints, he took a 7-yard pass and turned it into a 66-yard catch-and-run." -- Lindsey Thiry
"Seeing Cooper Kupp go for 120 yards was a great sign. He showed a lot of strength and explosion on a 66-yard catch-and-run that was just short of a touchdown. Coming off a torn ACL, it was fantastic to see Kupp look like he's 100 percent."
"It happened under rotten circumstances, but Sunday's decisive win by the Rams over the Saints in a rematch of last year's NFC title game was a tone-setter. A message-sender."
"They've actually been managing Todd Gurley longer than you think, the tailback exceeding 20 carries in just one of his past 11 games."
"NFL 100 fun fact for the day: The Rams franchise began in Cleveland in 1937. It returns to its roots on Sunday."
"At 2-0, the Rams have the look of a deep playoff team again. The defense appears much improved."
"The Rams wonder: NFL officiating problems? What NFL officiating problems? Everything seems just fine to the Rams, especially when they play the Saints."
THIS WEEK'S OPPONENT'S RANKS — THE CLEVELAND BROWNS