As the Rams build a winning team on the field, 28 of the team's rookies are laying a solid foundation in the LA community. On Friday, June 8th, Los Angeles Rams rookies were among 230 volunteers who participated in Habitat for Humanity of Greater Los Angeles' 2018 Hollywood Build. Players worked side by side with entertainment industry executives, celebrities, corporate leaders, government officials, faith groups and community stakeholders to frame walls for a new 10-home development in Culver City as part of Habitat LA's mission to raise hammers, funds and awareness surrounding the pressing need for affordable housing in the greater LA region.
"It's incredible to have a team partner in Jacques (McClendon, the Rams Director of Player Engagement), who understands the importance of getting our players active in the community," said Molly Higgins, Los Angeles Rams Vice President of Community Affairs and Engagement. "He does a phenomenal job building out programming and activities that help our rookies with their transition from college student-athletes to professional athletes and really pushes them to grow as people. As part of the orientation, we wanted to include community engagement opportunities to make sure they understand that being a Los Angeles Ram is more than just winning on the field – it's contributing to our community off the field as well."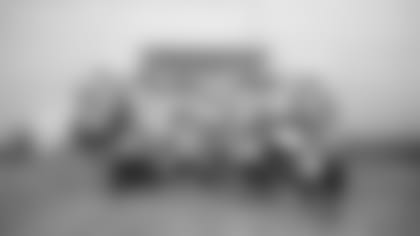 Habitat for Humanity of Greater Los Angeles' Vice President of Entertainment Industry Partnerships, Jo-An Turman, believes the Rams' commitment to the LA community continues to endear them to the people of the city. While many of the Rams rookies are still acclimating themselves to their new homes, the Hollywood Build provided them an opportunity to connect with Angelenos while also expanding on the community efforts the team's current players, coaches and staff have already made in the LA community.
"I believe having the LA Rams Rookies and other notable community members and corporations out building at our Hollywood Build alongside our Partner Families meant so much to them," said Turman. "Many were in disbelief that the LA Rams cared enough to volunteer building on their homes with Habitat LA. It gave them a new respect and admiration for their home team to be so involved with Habitat LA and their futures. It made our Hollywood Build feel very LA and unique. Initiatives like these not only provide a sense of community, but a sense of commitment to the community which is so important to the residents. Knowing the Rams care about their fan community gives anyone a sense of pride. Our staff and other volunteers were very pleased and proud to see the rookies out supporting Habitat LA and their community."
For Rams defensive tackle SEBASTIAN JOSEPH-DAY, 6th round pick out of Rutgers, the home-build provided some perspective as it relates to the hard work construction workers put in to build homes and other structures. With his Rams hard hat on, Joseph-Day couldn't help but tip his cap to the local construction workers who spend their time and effort providing homes for people in need.
"It makes me appreciate all the people that are in the construction industry male and female," said Joseph-Day. "Because this stuff is hard work… I'm sweating, muscles bulging…it's a full-on work out!"
As new as the home-building experience may have felt to some, running back JOHN KELLY, 6th round pick out of Tennessee, found that the building-dynamics between the veterans and the less experienced workers was similar to that of veterans and rookies on an NFL team.
"They woke us up a little early today but it's not like we don't get up early for practice and it's really nice to be out here giving back to somebody," said Kelly. "We're getting instructions from a lot of veteran builders just like at practice when we're receiving instructions from the veteran guys."
The Hollywood Build was in partnership with the Hollywood Habitat for Humanity program, which was founded to engage the entertainment community and invites them to be agents of change in their own backyard. Participating in the event this year were notable attendees including comedians, musicians, athletes, DIYers, designers and cast members from: Better Call Saul; The Bold and the Beautiful; Chicago P.D.; The Blacklist; Forrest Gump; Game Shakers; Glee; Grey's Anatomy; Home Made Simple; House of Lies; How to Get Away with Murder; I, Tonya; I'm Dying Up Here; Justified; Once Upon a View; Showtime at the Apollo; The Young and the Restless; Westworld; Wisdom of the Crowd and more.
To stay current on the Hollywood Build or to follow the project's progress, visit Twitter, Instagram and Facebook @HabitatLA, and through the hashtag #HollywoodBuild. For more information about the Rams community outreach efforts, please visit therams.com/community.
The 2018 Rams rookies participated in Habitat for Humanity of Greater Los Angeles' 2018 Hollywood Build.