As the Los Angeles Rams looked at creative ways to recognize Juneteenth, the organization decided on a unique partnership with Black-owned businesses in Inglewood. In addition to promoting the businesses, the Rams treated Inglewood residents and visitors to free meals, coffee, pastries, ice cream and haircuts.
The local businesses supported were: Sip & Sonder, Hilltop Coffee and Kitchen, The Good Cake Company, Sweet Red Peach, Jamz Creamery, Woody's BBQ, The Wood Urban Kitchen, Platinum Cuts and In the Cut Barbershop.
"With so many local businesses hurting due to COVID-19, we thought this was a unique way to support our Inglewood business owners, while providing a nice surprise to our community members," said Molly Higgins, vice president of community affairs and engagement, Los Angeles Rams.
In total, the Rams contributed more than $25,000 to the local economy through the Juneteenth effort.
Juneteenth is the oldest celebrated commemoration of the ending of slavery in the United States. On June 19th, 1865 Union soldiers traveled to Texas and told a group of slaves that the Civil War had ended two years earlier and that they were now free.
Workers at The Wood Urban Kitchen in Inglewood worked for over three days preparing food for more than 1,000 people on the holiday.
"We wanted to celebrate. You know, for a lot of us, Juneteenth is like Fourth of July," said Jonathan Defoe, The Wood Urban Kitchen event organizer. "It was a very festive celebratory mood, some long lines but they moved quickly, and everyone was in good spirits. The Rams donated towards the food. It was a big community event and was really nice. We wanted to give people a reason to celebrate in light of what is going on. There is a lot of anxiousness in the air."
The celebration attracted people from all over Los Angeles and made significant economic impacts on local businesses in the Inglewood area.
"The amount of customers we had in line that day, it was almost like a fair. Even now, we get people coming back saying 'Hey, we found this place on Juneteenth.' The Rams made a statement by saying 'We are here for you and we want to do as much for the community as we possibly can.' It was another example of them cementing themselves into this space in the city of Inglewood," Jamz Creamery Owner Jay Allen said. "I turned into a Rams fan that day."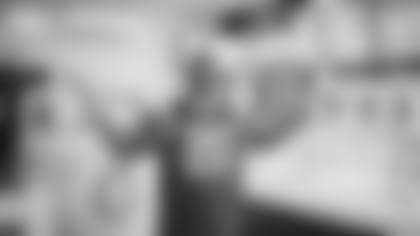 For people who have been unable to work and socialize such as the workers at In The Cut Barber and Salon, this particular Juneteenth provided some comradery that COVID-19 has temporarily stripped away.
"It was perfect timing and it was appreciated and much-needed. These barbers had not been working for about 3 months and you are not just missing out on income, but also comradery, friendship, fellowship, all things like that," said In The Cut Barber and Salon Owner Trevor Graham said. "It is deeper than some people may think, that human contact, that fellowship, especially for our community right now, but then even for society as a whole."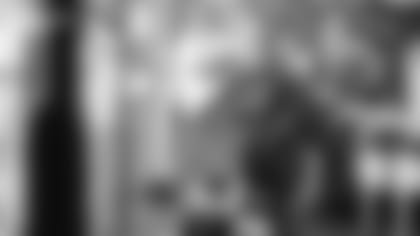 The Rams also made efforts to support the 'Operation Relief' food giveaway for veterans and their families alongside American Legion 23rd District, Veterans of Foreign Wars Post Pfc. Adrienne L. Mitchell No. 2122, and Inglewood Mayor James T. Butts. The participants at the Juneteenth event distributed groceries, hot meals which were provided by the Rams, clothing, canned goods and toiletries to veterans and their families on the lawn of Inglewood City Hall.
"The city of Inglewood salutes the Los Angeles Rams for engaging our community in celebration of Juneteenth. The LA Rams and NFL continue to be true partners with our residents and businesses," said Inglewood Mayor James T. Butts.