On the heels of their second preseason game, the Rams are going to meet with and work out outside linebacker Junior Galette. After reports of the visit surfaced on Saturday, head coach Sean McVay confirmed the news while speaking to reporters on a conference call Sunday evening. 
Originally signed by the Saints as an undrafted free agent, Galette spent the first five seasons of his career in New Orleans with current Rams defensive line coach Bill Johnson. In 2013 and 2014, Galette posted consecutive seasons with double-digit sacks — 12.0 in 2013 and 10.0 in 2014.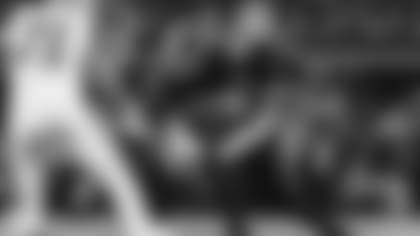 He signed with Washington after New Orleans released him in the summer of 2015, but Galette's next two years would be hampered by injury. Galette tore his left achilles tendon in 2015 and his right in 2016, missing all of both seasons. 
Galette was able to come back in 2017, however, and play all 16 games. He posted 3.0 sacks and one forced fumble. 
The outside linebacker has plenty of ties to the Rams staff — starting with Johnson, but extending to McVay and assistant head coach/linebackers coach Joe Barry, as they shared 2015 and 2016 together in Washington. 
"He's a guy that's had a lot of rush production over the course of his career, and he's somebody that we're going to work out tomorrow," McVay said. "If things go well, there's a good possibility that we could sign him. But that's all going to be predicated on the physical, how the workout goes. 
"But I think with some of the history that a lot of our coaches have with the player, and just him being out there, being available, and potentially being able to add to our rush, that was something that was intriguing about bringing him in and seeing where he's at."
The Rams have had issues with injuries throughout the offseason program and preseason at outside linebacker. Morgan Fox suffered a season-ending knee injury during OTAs, to start. On the conference call, McVay said Matt Longacre is making progress and could potentially play in Saturday's game against Houston. And McVay noted that rookie Obo Okoronkwo's foot has not progressed as quickly as everyone would have liked following surgery during the offseason program. 
However, McVay said any move with Galette — who has 34.5 career sacks — wouldn't necessarily be a reaction to that. 
"I would say it's really independent," McVay said. "I think it's more a result of, he's a guy that's had rush production, a guy our coaches do have some familiarity with and know. And a guy like that, you want to be able to bring in and see where he's at, and then be able to make a decision that we feel like best and really ultimately tries to shape out our team, and specifically to those edge rushers in some of those known-passing situations."