The Rams could have patted themselves on the back, taken a bow, and shouted hallelujah following the opening day of the 1983 NFL Draft, when after selecting SMU running back Eric Dickerson in the first round, they were able to choose Fresno State wide receiver Henry Ellard in the second.
They weren't the only ones who were happy.
"It was excitement and relief at the same time because word was the Raiders may draft me, which being in Oakland would have been ideal," Ellard said. "And then when that didn't happen, it was east coast teams (in the Draft order), and that's the last thing I wanted, if I had to go that far away from home.
"So then the Rams told me, 'If you're around in the second round, we're going to draft you.'And thank God that's how it all kind of unfolded."
So for Ellard, the good news was that he'd be starting his NFL career relatively close to home.The bad news, though, was that he'd be doing so injured.
"I was running at a pro day and pulled my hamstring," Ellard said. "I ran track in college, as well, and at our conference championship meet, I pulled it again. So I went into training camp kind of limping.
"It's like, a second-round pick coming in hurt, of course, the veterans are going to be teasing you, making all kinds of jokes. So there was some pressure to try to get healthy and show what I can do.
"And we get into the first regular-season game against the Giants, and Preston Dennard got hurt. So I went in and had, I think, three catches for 50 or 60 yards [91] and doing fairly well. But on that last catch, I dove to catch the ball and landed on my shoulder and cracked my collarbone. I was out five weeks after that. And the funny part is I'd never been injured up until that point."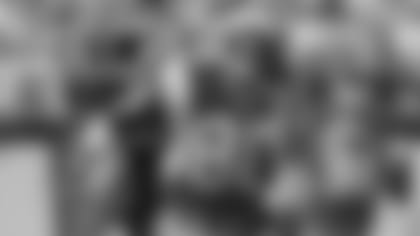 Injury-free in his second season, Ellard was a starter at wide receiver, and indirectly because of Dickerson, became an All-Pro and selected to play in the Pro Bowl that year as a punt returner.
"I mean, Eric was the man. He put us on his back and carried us," Ellard said. "And that's really how I became a punt returner. It was one of the things where, how I can I get my hands on the football because we're giving the ball to Eric a lot of the time? What can I do to help out? And they said, 'Would you mind doing kickoff and punt returns?' And I said, 'Yeah, I'll give it a shot.' And sure enough, it worked out well."
To go along with a team-leading 34 receptions for 622 yards and six touchdowns in 1984, as a punt returner, two of his 30 returns – 83 yards against the Giants and 69 yards against the Falcons – finished in the end zone for touchdowns.
"It was a lot of fun, especially as the punt returner. Like I said, just getting a chance to get my hands on the ball and do some things with it," Ellard said. "Then, of course, getting voted to the Pro Bowl was just icing on the cake.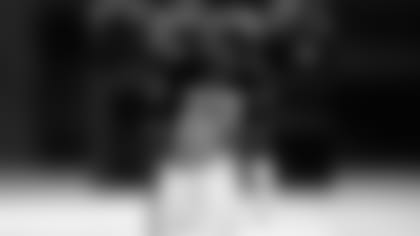 "I'll never forget walking into that locker room. Joe Montana's over there. Walter Payton's over there. Michael Singletary's over there. I'm trying to be cool, but inside I was just ready to blow out. It was intimidating. To see all these guys that I grew up watching, and all of a sudden, I'm in the same locker room… Of course, I'm trying to play that role and act like I fit in. But I'll tell you what, it was different."
What's also different is that Ellard played an incredible 16 seasons in the NFL, eleven with the Rams. He left Los Angeles following the 1993 season as the team's career leader in receptions (593) and receiving yards (9,761) and still remains third all-time in both categories.
A preliminary nominee for the Pro Football Hall of Fame every year since 2004 and a semi-finalist this year, Ellard was a two-time All-Pro – as a punt returner in 1984 and as a wide receiver in '88 – and chosen to play in the Pro Bowl three times.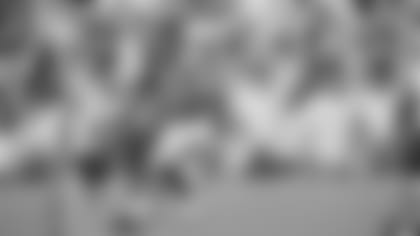 "People always ask me, 'What was your biggest moment in the NFL?' And really, it wasn't a play or anything like that," Ellard said. "My mom and dad had divorced when I was young, so she took care of (me and my eight older brothers and sisters). She was a registered nurse at a convalescent hospital from 10:30 at night to 7:30 in the morning. She'd get home and fix us breakfast and send us off to school.
"I told her I couldn't wait to get to a point where I can take care of her. And so the greatest moment of my career was when I told my mom, 'It's time for you to retire. It's time for me to take care of you.' That's what it was all about for me. That was my motivating factor, just taking care of my mom."
Enjoying a lengthy career playing for the Rams, Washington and New England could have been enough. But for Ellard, it was merely halftime. A free agent in 1998, Ellard was in Los Angeles and opened a newspaper.
"This small Christian high school had hired a coach, and two weeks before they were going to start, he walked away from them. My heart went out to these kids. I said, 'You know what, I'm going to follow this story. And if they hire a head coach, I'm going to go volunteer.' That's how I got into coaching," Ellard said.
"We had maybe 18 players, which half were probably freshmen that had never played the game before. They were scared to death and I wouldn't change a thing. Because just to watch how the kids started to develop and come along and build a little confidence, it was such a neat experience."
After two seasons at California Southern Christian Academy, interrupted by a five-game stint playing for the Patriots, Ellard volunteered to coach at Fresno State for one season and then became a rookie with the Rams again in 2001 on Mike Martz's staff as an offensive assistant.
"I've got Isaac Bruce, I've got Torry Holt, I've got Ricky Proehl, I've got Az (-Zahir) Hakim. I couldn't ask for better situation than that," Ellard said. "And it was kind of neat because it was really just veteran players talking to the younger players. The things that worked for me, the things that worked for them, the things that can help them in a given situation."
With the Rams for eight seasons, Ellard went on to coach wide receivers for the Jets and the Saints – a 14-year NFL career on the sidelines – before retiring to San Antonio, Texas, with his wife, Lillian, and their daughters: Christiana, Alexandria and Adriana. He also has two children from a previous marriage: Whitney and Henry Jr., and four grandchildren.
Ellard's retired, but isn't spending afternoons on the front porch, sitting on a rocking chair, and shooing kids off of his lawn.
"It's like full circle. I had two daughters in school at the time and one day I was out on the track working out after I dropped them off in the morning. The athletic director saw me and asked if I would help out with the receivers," Ellard said.
After one year, the head coach left for a college job, and his replacement lasted 10 days before doing the same.
"My heart went out to these kids, almost like it did the first time I got into coaching," Ellard said. "Within two days, I get a phone call from the athletic director, and sure enough, I became the head coach.
"My daughter graduated two years ago and I ended up leaving at that point. We moved from one side of town to the other and I had another coach from TMI [Texas Military Institute], who asked if I would help out with the receivers. So I've been doing it the last two years, going into my third."