Last year was a first for many.
As an organization, the Rams hadn't been to the postseason since back in 2004. Really, the team hadn't even been close to getting there, with the exception of the 2010 season where the Rams played in a "win and you're in" contest against the Seahawks in Week 17.
So when the Rams played their Wild Card matchup against the Falcons last year, they didn't have the benefit of experience. And that isn't an excuse for the result, to be sure — though the team is rightfully long past that.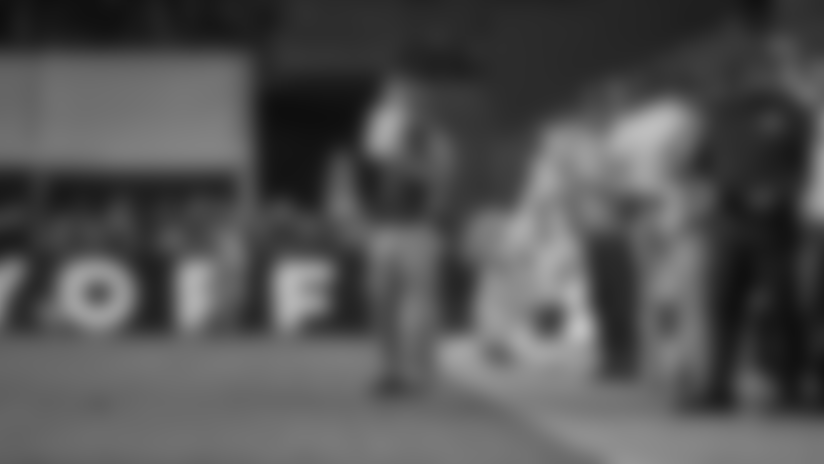 But going into the 2018 postseason, that's clearly something the Rams now have. Plus, the team played in a number of marquee games this season — whether in primetime or otherwise. All of that should help Los Angeles for what is shaping up to be significant playoff run.
"At that time, nobody had been in a playoff game and stuff like that — talking about last year," defensive lineman Michael Brockers said. "But we learned from that loss and I think we'll be better this go 'round."
"I think just having that experience is going to help us," defensive tackle Aaron Donald said. "We know what to expect. We know everybody's hungry, everybody's ready. And we're going to be fresh. So we've just got to keep working, stay focused."
Following Sunday's 48-32 victory over the 49ers, head coach Sean McVay expressed a similar sentiment.
"I think we've had that experience and you always use that as a chance to learn from," McVay said. "You always use those experiences — whether it's regular season, playoff games — to be able to try to get better. I think, with some of our young players specifically at the key spots, a lot of the games that we played in not only this year, but last year and even going back to the playoff atmosphere against Atlanta will serve us well. Say, we've been in this type of setting. There's nothing quite like the playoffs, but I think that Atlanta game will serve us well as we move forward as a team."
In what ways does that experience help?
"I think just understanding the opportunity is definitely part of it," quarterback Jared Goff said. "I think just having more big-game experience, being on primetime a handful of times this year and then having that playoff game last year and having games that are extremely meaningful late in the season. I think that all carries over into the playoffs and into that mentality that you have to have throughout the week."
Part of it, too, is having more experience being the hunted vs. being the hunter. As one of the popular preseason picks to reach Super Bowl LIII — not to mention coming off a strong 11-5 season in 2017 — the Rams knew they had to bring it each and every week.
"We're going to get everyone's best shot in the playoffs, too. So it definitely prepared us for what we were about to see," second-year safety John Johnson said. "It's probably going to be the same teams that we played — just how the seeding works, with the schedule. So I mean, I think it's going to get us ready."
"I think it'll help a lot because we went through a lot of adversity. The playoffs, everything is amped up," Brockers said. "There's things that's going to happen — turnovers, stuff that you can't totally prepare for. It's going to be off-schedule. But knowing as your team — us knowing that the offense does such a great job of getting points off turnovers, if we focus on that and also them focusing on not giving the ball up, then we can win games. So I think at the end of the day, as long as we do that, we'll be good."
But at least for the next few days, the Rams get to concentrate on themselves. That's what going 13-3 and earning a first-round bye gives the team the opportunity to do. And L.A. will certainly take advantage of that.
"I think definitely you'll enjoy it [Sunday night] and understand how big of an accomplishment that is," Goff said. "Then, really quickly turn it around and get our sights set on whoever we have to play next and the road ahead of us. That's going to be hopefully very exciting."
"You want to make sure that they enjoy the opportunity that they've earned. To be able to have some rest right now, have a couple weeks to get ourselves ready to go. This week will provide a great opportunity for us to look at ourselves, kind of try to get ahead on maybe the opponent that we anticipate playing in the divisional round," McVay said. "It's very hard to win in this league. There's too many good players, too many good coaches and can't say enough about just how much you love this team, how much you love these guys, this coaching staff and it makes you want to work that much harder to capitalize on the opportunity that we have in front of us."