As part of the Rams' celebration of Women's History Month, the organization wants to inspire Angelenos through stories of female staff impacted by sports and now changing the game for future generations.
The series concludes with video coordinator Lauren Blonien, who works specifically in coaches' video.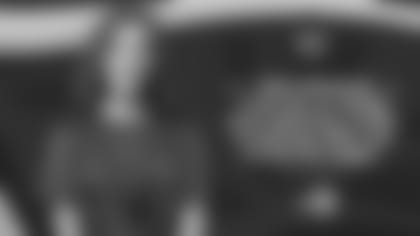 Lauren Blonien has seen a big shift in the number of women in the realm of coaches video and video technology departments across NFL teams, with that representation more than doubling over the last three years.
"There are a lot of women rising in the ranks of the NFL and in video," she said. "I am grateful to so many women that continue in efforts to connect all the women around the league as resources to one another through frequent virtual events. I feel influenced every day by seeing more and more women around the office and around the league. During my first season there were less than five women in coaches video in the whole NFL, now there are over ten! For such small departments across the NFL, that jump is huge and should not go unnoticed. I know that I couldn't be where I am at without each and every one of them!"
Blonien has been among that group since 2020, when she joined the Rams as a fellow before being promoted to her current role as a coordinator in the video technology department in 2022. Working specifically with coaches' video, her day to day consists of filming practice, aiding in the operations of meetings between coaches and players, maintaining the Rams' film database, and traveling with the team to film games.
"Part of the beauty of coaches' videos is how much of the behind the scenes of the work there is," Blonien said. "I feel very privileged to have experienced some of the things that I have while working for the Rams. The video department is there for every late night in the office while coaches work hard all season, to every early morning loading equipment for games and travel meetings. When coaches need specific cutups for an opponent each week, video is there to provide!"
So far, her favorite memory from her time working with the team has been Super Bowl LVI – in part for a historic reason.
"I was the first woman in coaches' video to film a super bowl - and the game itself was unforgettable!" Blonien said. "Truly great playing by both teams, an incredible atmosphere in our home stadium, and a lasting accomplishment by the entire organization! I feel very fortunate to have experienced a season with such magnitude so early in my career for such a special organization."
Blonien believes that everyone can bring unique perspectives to the workspace given different backgrounds, and that is amplified through diversity, including women. She said that in football and working in a technology-based department, the foundation of football is important but not necessary to start, and that helps their department tackle technology questions as any other company might – they just happen to apply it to football.
"The culture and perspective in my department thinks outside the box of sports into technology to see how we might enhance the team's day to day practice and meetings," Blonien said. "The balance of a diverse office keeps our department open minded and communicating about all kinds of ideas and workflows in our day to day job to continue pushing ourselves to being the most efficient with our work."
According to Blonien, the best part of her job is watching Rams players grow and improve both individually and also collectively as a unit. It's a gratifying feeling on gameday to watch the people they work with have success and know they played a part in them doing so.
She carries out those duties with a work ethic influenced not only by her experience as a former college athlete, but also how critical it is for young people to see women like her in her position.
Her time as a collegiate athlete always taught her the importance of working hard for her teammates, something that has continued into her current role with the Rams supporting those around her. And while there has been observable growth in the number of women in coaches video throughout the league, visibility remains a crucial component to that progress.
"Women are still very new to positions in coaches video, which is why I am so proud to be vocal and public about what I do for work so that others, especially women with a passion for sports, may be inspired to find different ways to build a career in the space of sports," Blonien said.
On a broader scale, Blonien has seen that evolve during her time with the Rams, with the amount of women in football operations and across the organization overall multiplying over the past three seasons. She said that's helped build up her own support system within the organization.
"I am looking forward to the league continuing to become a more inclusive place for anyone and everyone who shares the passion for sports," she said. "It will be really great to see the women currently in the league rise to leadership positions!"
Blonien said there's a lot of women in all industries tackling jobs that are male-dominated and challenging careers in general, so one of the the simplest way to celebrate Women's History Month is to thank women for their valuable contributions on a day-to-day basis.
"Diving deeper, we can all make sure to be open to more transparent conversations about any adversity that does still exist in the workplace, including the barriers women still face entering careers in sports," Blonien said.