The Rams wrapped up their 2019 draft taking linebacker Dakota Allen in the seventh round out of Texas Tech.
The No. 251-overall selection, Allen started 29 games in three non-consecutive seasons at Tech, where he racked up 262 total tackles — 18.5 of which for a loss — 2.5 sacks, and four interceptions. He spent a season at East Mississippi Community College in 2016.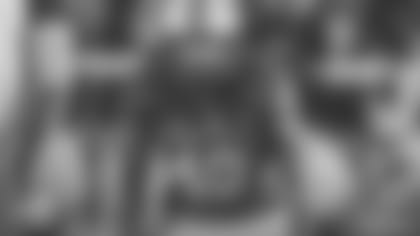 The Los Angeles linebacker corps will look a bit different heading into 2019. The team released veteran starter Mark Barron early in the offseason, added veteran experience in Clay Matthews, and watched bench backers and special teams contributors Ramik Wilson and Bryce Hager walk in free agency — only for Hager to return to the club as the calendar flipped to May.
A starting role for the seventh rounder seems a bit out of the question still a few months from training camp, especially with Micah Kiser poised for a starter's spot in the middle of the defense next to signal-caller Cory Littleton. But Allen could provide some youthful depth in the position group that's facing a few question marks heading into 2019.
POTENTIAL ROLE AS A ROOKIE
It appears Allen may get his chance on special teams in year one as a pro if general manager Les Snead's comments following draft day three are any indication.
"It was one of those situations where [linebackers] coach [Joe] Barry and [special teams coordinator John Fassel] coach 'Bones' were on board and we all know how those linebackers are that maybe aren't starting, they're covering a lot of kicks for us, hopefully," Snead said.
Meanwhile, Allen's ready for whatever comes his way.
"I will fit in wherever I am coached to fit in. When I get there, I'm going to work hard from day one," Allen said. "I'm going to take it day by day, get better and be coachable, and just hopefully contribute to the team."
Though Allen seems bound for special teams duties should he make the 53-man roster, a year or two in Fassel's unit could lead to defensive opportunities.
With spots essentially filled for 2019, but few clear long-term options at linebacker, Allen could follow in Kiser's footsteps and impress on special teams and in practice to set himself up to become a contributor in coordinator Wade Phillips' defense in the future.