ATLANTA – Before becoming the head coach of the Cincinnati Bengals this season, Zac Taylor spent the past two seasons working alongside Rams head coach Sean McVay, first as an assistant wide receivers coach in 2017, then as quarterbacks coach in 2018.
"He's a great coach," McVay said. "He's done an excellent job for us when he's been with us."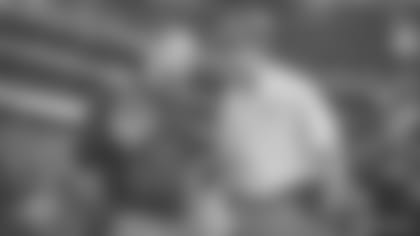 McVay recognizes why the familiarity is a storyline as the two teams prepare to face each other in London. However, he believes the best approach to take is to stick with his gut when it comes to prep work and playcalling.
It's an understandable one, too, considering he found himself in the exact same situation two years ago.
During his first season as the Rams head coach, he faced the Redskins in Week 2 after spending the previous three seasons as Washington's offensive coordinator.
"Their offense was very similar," McVay said. "You almost realize sometimes you try to give too much information. It ends up thinning out and watering down things when you still have to play your call, make a reactionary check. So, I think we're mindful of the things that maybe he would be able to help out with and adjust those, so that it's not exactly what they anticipate."
At the same time, calls still have to be made and those decisions shouldn't involve overthinking, according to McVay.
"You don't know when we are going to do it and then there's a call that they have to react to on defense as well or on offense," McVay said. "Those are the things I kind of learned when we played Washington in a very similar situation."
Taylor also likely has some sense of familiarity of defensive coordinator Wade Phillips' scheme, having practiced against it for two years.
Like McVay, Phillips maintained being confident in the playcalls. While minor changes are expected to be made, it's no different than any other game – execution of the Rams' own concepts is pivotal.
"You have to do what you do well no matter what," Phillips said. "But, you have to change a few things as far as when you call things or things like that. You have to play what you play and play it well enough so they can't run things against you. It's always that case whether they've been with you or not."
That Week 2 game in 2017 between the Redskins and the Rams ended in a 27-20 Redskins victory, evidence that a coach facing his former employer didn't create as big of an advantage as potentially perceived.
While the Rams have already made some small adjustments, one thing that won't change is sticking to what they know best.
"He does know a lot of stuff, not only about me but about our whole offense and our whole team," Rams QB Jared Goff said. "With that being said, we have changed a lot in the last six to nine months. Since he was here, we've changed defensively, offensively, schematically at times. There is the thoughts that he will be a step ahead of us, but we're going to go out and play our game."