The Rams held wide receiver Amari Cooper to just one reception for nine yards in the season opener against the Raiders on Monday Night Football.
But a lot has happened since Week 1 — including a blockbuster trade that sent Cooper from Oakland to Dallas.
The Rams defense was up and down in 2018, shutting out the Cardinals in the Coliseum in Week 2, allowing 273 yards rushing Week 10 against the Seahawks, and forcing five takeaways against the Chiefs, to chart just a few of the peaks and valleys.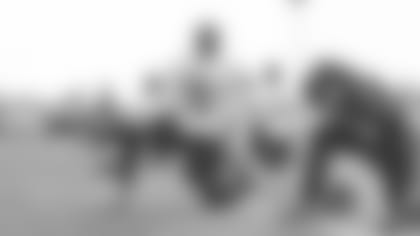 While defensive tackle Aaron Donald's quarterback-hunt has been constant, the unit has been with and without cornerback Aqib Talib. It's seen a roller-coaster season from cornerback Marcus Peters. And second-year players like linebacker Samson Ebukam and safety John Johnson are stepping into the spotlight.
The ball-stopping 11 is trending upward in terms of takeaways entering the postseason, and it's now time to face Dallas' young offensive duo of quarterback Dak Prescott and running back Ezekiel Elliott… and the season opener's no-show.
Now as a member of the Cowboys, Cooper is thriving as the third pillar holding up the playoff hopes (on offense) in Dallas. In the Wild Card round against the Seahawks, Cooper caught seven passes for 106 yards — a fine receiving compliment to Elliott's relentless rush.
The Rams defensive backs have taken note.
"He's one of the top guys, man, he's one of the top guys," Talib said this week. "He's fast, he's quick, he catches the ball downfield, high-point the football, good yards after the catch, so he's got the total package."
"He's a route runner," Johnson said. "He can run any route and he puts his own flavor on every route that you can get. He's crisp coming out his breaks, you can't miss a step with him."
Cooper's first-round playoff production comes after a busy nine weeks as a Cowboy. Dallas traded for Cooper ahead of Week 9 and has targeted him 73 times since. Six of Cooper's seven touchdown receptions in 2018 came with his second team. Head coach Jason Garrett's offense relies heavily on Cooper and the receiver has consistently displayed his ability.
Talib and Peters have experience against Cooper as former members of the AFC West. After lining up across Cooper in silver and black twice annually, the pair of ball hawks say it's same-old Amari in Dallas.
"The same thing I've been seeing from 'Coop' since I've been facing since we were rookies," Peters said. "Excellent receiver, glad he's getting the chance to actually be himself and go out there and play ball."
Talib said the only difference in Cooper's game has been the increased workload.
"I think they are getting the ball in his hands more — a lot more quick passes, catch-and-run type situations, so they are doing a good job getting the ball in his hands."
Cooper posted his third 1,000-yard season as a member of the Raiders and Cowboys this year and the Cowboys are 8-2 since he joined the club. But history suggests the Rams may have an upper hand come Saturday night.
Early in the week, NFL Network's David Carr pointed out Talib's success against Cooper, reporting that as a Raider, Cooper had just one catch against Talib since 2015, and seven against Peters.
Multiple Rams were asked this week if performing well playoffs is a way to make a name for yourself and be remembered in the game's top league.
Goff said of course, running back Todd Gurley said he'll leave that pressure to the quarterback — but Talib sided with Goff.
Playing one of the most magnified one-on-one positions in sports, Talib will have a shot to add to his legacy on Saturday.
"Yeah, playoffs are going to mean everybody is measured like that — o-line vs. d-line, cornerbacks — everybody," Talib said. "If you want to be popular and get your name out there, make a couple plays in the playoffs, you'll be there."
Perhaps easier said than done for the Super Bowl 50 champion.