Impacting Lives and Creating Memories
The Los Angeles Rams organization recognizes its unique ability to help raise awareness and money for causes and issues relevant to our fans and fellow citizens. The entire organization is committed to being a valuable community partner and benefiting the Los Angeles region 365 days a year.
The Rams focus substantial resources on efforts to engage and impact the Los Angeles community through a commitment to support youth education and mentoring, promote health and wellness, and help address the issues of poverty. The team also participates in a variety of special events to raise awareness and funding for numerous local non-profits.
Since the team has moved back to Southern California, the Rams have partnered with various school districts and non-profits including: After-School All-Stars, American Cancer Society, American Heart Association, American Red Cross, A Place Called Home, Big Brothers Big Sisters of Greater Los Angeles, Big Sunday, Boys & Girls Club of Orange County, Cedars-Sinai, Children's Hospital of Los Angeles (CHLA), Children's Miracle Network Extra Life, City Year, Club 21, CollegeSpring, Conejo Valley Unified School District, Educators 4 Excellence, Exceptional Children's Foundation, FirstBook, FOODShare of Ventura County, Habitat for Humanity of Greater Los Angeles, Habitat for Humanity of Orange County, Habitat for Humanity of Ventura County, Heart of Los Angeles (HOLA), Homeboy Industries, HomeLight Family Living, I Have A Dream Los Angeles, Inglewood Unified School District, Inner City Arts, Green Dot Public Schools, L.A. Family Housing, L.A. Kitchen, L.A. Promise Fund, LA's BEST, Las Virgenes Unified School District, Los Angeles Conservation Corps, Los Angeles County Alliance for Boys & Girls Clubs, Los Angeles Education Partnership, Los Angeles Regional Food Bank, Los Angeles Ronald McDonald House, Los Angeles Unified School District, Make-A-Wish of Greater Los Angeles, Make-A-Wish Tri-Counties, Merging Vets and Players, Mission Continues, My Stuff Bags Foundation, Operation Gratitude, Operation Progress, Orange County Boys & Girls Club, Partnership for Los Angeles Schools, ROSIES Foundation, Salvation Army, San Fernando Valley Rescue Mission, Sharefest, Skid Row Housing Trust, Special Olympics of Southern California, St. Margaret's Center, St. Vincent de Paul, Sunshine Kids, Susan G. Komen, The Midnight Mission, Tragedy Assistance Program for Survivors (TAPS), UCLA Operation Mend, United Way of Greater Los Angeles, Uplift Family Services at Hollygrove, Vision Zero, Watts Bears, World Police and Fire Games, Wounded Warrior Project, YMCA and YWCA.
STAFF DAYS OF SERVICE
Each month, the Rams front office staff takes time out of the office to volunteer with local non-profits. Since returning home to Los Angeles, Rams staff members have provided 4,339 hours of community service and impacted 23 local non-profits and 43 schools (as of July 2018).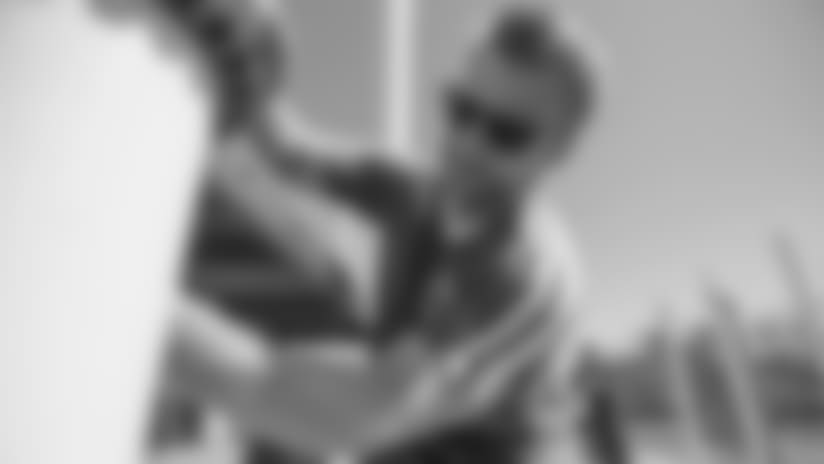 ANNUAL COMMUNITY IMPROVEMENT PROJECT
The cornerstone volunteer effort of the Staff Day of Service program is the team's Annual Community Improvement Project which includes staff, players and cheerleaders uniting to assist a local non-profit, school or community in need. Since returning home to Los Angeles, the team has funded and built a new playground and completed mural projects for elementary schools in Inglewood, Watts and South Central. Previous community improvement projects provided the St. Louis region with six new playgrounds and a refurbished football field for the Boys & Girls Club of Greater St. Louis.
2018 - Playground Build for Twentieth Street Elementary School in the Los Angeles Unified School District.
2017 - Playground Build for Figueroa Street Elementary School in the Los Angeles Unified School District
2016 - Playground Build for Woodworth Elementary School in the Inglewood Unified School District
2015 – Refurbished football field at the Boys & Girls Club of Greater St. Louis - Herbert Hoover location
2014 – Playground Build for Marygrove, a center dedicated to helping children impacted by abuse, neglect and other early childhood traumas move toward a brighter future
2013 – Playground Build for Washington Elementary School, a grade school in the Normandy School district
2012 – Playground Build for Fairmont City Library Center
2011 – Playground Build for Giant Steps, a special education school and therapy center for children on the autism spectrum
2010 – Playground Build for Monroe eMints Academy, a St. Louis Public School
2009 – Playground Build for a community park in East St. Louis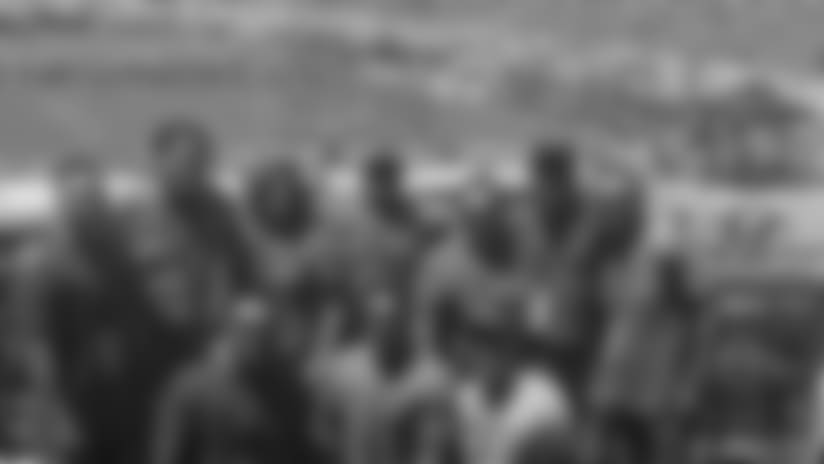 ALL COMMUNITY TEAM
Each season, Rams players, Head Coach Sean McVay, General Manger Les Snead and Chief Operating Officer Kevin Demoff purchase season tickets for donation to local charities and school groups for the opportunity to attend a Rams home game. In 2017, 24 players participated in the All-Community Team program and purchased more than 4,720 game tickets that were donated to 85 local non-profits and schools. The Rams organization donated another 10,700 game tickets to local non-profits, military organizations, and youth.
KICKOFF FOR CHARITY LUNCHEON
Each year, the Rams host a Kickoff for Charity luncheon to help celebrate the beginning of the football season. In addition to receiving a preview of the season directly from Head Coach Sean McVay, this unique luncheon allows fans to be seated at tables alongside their favorite Rams players. Attendees also have the chance to bid on unique auction items and receive autographed attendance gifts and the proceeds support the Rams community outreach initiatives. 
United Way of Greater Los Angeles and the Los Angeles Rams are teaming up for HomeWalk, the nonprofit organization's annual 5K family run/walk to end homelessness. Through this partnership, the two organizations will work collaboratively to create an unforgettable experience for runners, walkers, fans and fundraisers of all ages. HomeWalk aims to mobilize all of L.A. County to get involved and raise funds to end homelessness for good. This year, the event, typically held in the fall, will be moved to May 18, 2019 and amplified with new, elevated goals of raising $1.5 million and engaging 15,000 Angelenos to run/walk to end homelessness in L.A. County.
RAMS JOIN WITH UNITED WAY OF GREATER LOS ANGELES TO LEAD HOMEWALK
United Way of Greater Los Angeles and the Los Angeles Rams are teaming up for HomeWalk, the nonprofit organization's annual 5K family run/walk to end homelessness. Through this partnership, the two organizations will work collaboratively to create an unforgettable experience for runners, walkers, fans and fundraisers of all ages. HomeWalk aims to mobilize all of L.A. County to get involved and raise funds to end homelessness for good. This year, the event, typically held in the fall, will be moved to May 18, 2019 and amplified with new, elevated goals of raising $1.5 million and engaging 15,000 Angelenos to run/walk to end homelessness in L.A. County.
RAMS NAME A PLACE CALLED HOME AS TEAM'S OFFICIAL "COURAGE HOUSE"
In 2018, the Los Angeles Rams and the Ed Block Courage Foundation named A Place Called Home (APCH) the team's official "Courage House." The Rams are one of 27 NFL teams to dedicate a facility into the Courage House National Support Network for Kids. Named after the NFL team in a respective city, a Courage House is a facility that provides support and care to abused, neglected and/or at-risk youth and their families in that respective community. A Place Called Home, established in 1993, provides South Central children and teens 8 years old – 21 years old with love, safety, enrichment, training, and opportunities through educational programs, counseling, and mentorship.
TASTE OF THE RAMS
In 2016, the Rams introduced Taste of the Rams, an annual signature event where attendees can sample specialty foods, bid on an array of items and meet the participating chefs as well as various Rams players and cheerleaders with the proceeds benefiting the Los Angeles Regional Food Bank. In 2017, the second annual Taste of the Rams event was chaired by running back Todd Gurley. In its two years of existence in Los Angeles, the Taste of the Rams has raised more than $310,000, which has translated to 1,240,000 meals for Angelenos in need.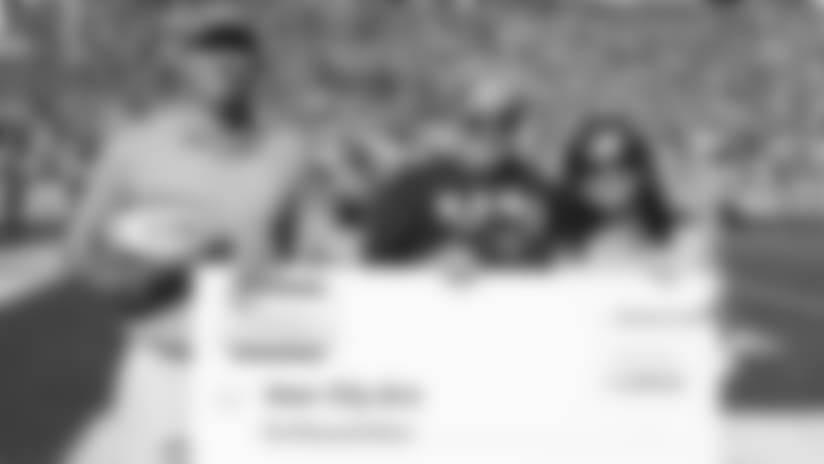 COMMUNITY QUARTERBACK AWARD
The Los Angeles Rams Community Quarterback Award presented by SoCal Honda Dealers is a volunteer recognition program that celebrates outstanding individuals who display strong leadership abilities and a passion for bettering his or her community. Each year, the program awards grant money and RAMdom Acts of Helpfulness to four deserving volunteers and the non-profit that they serve. The four Community Quarterback Award winners are also recognized on the field at a Rams home game. Since the program's inception, the Rams have donated more than $370,000 to community organizations through this initiative.
LOS ANGELES UNIFIED DISTRICT STUDENT AND TEACHER OF THE MONTH AWARDS
When the Rams returned to Los Angeles, the team partnered with CBS-2/KCAL-9 and Los Angeles Unified School District to introduce the LAUSD Student and Teacher of the Month program. The effort is a way to celebrate students who excel in the classroom and teachers who go above and beyond to positively influence and impact the lives of their students. Each month, a deserving teacher and student are selected from an LA Unified school and recognized at their school with an assembly, tickets to the Rams home opener and feature stories on CBS-2/KCAL-9.
RAMS PARTNER WITH LA PROMISE FUND ON INTERN PROJECT FOR INGLEWOOD STUDENTS
For the Rams 2018 training camp, the team worked with the LA Promise Fund to customize an internship program for recent high school graduates from Inglewood Unified School District. A program of LA Promise Fund, The Intern Project (TIP) provides deserving Los Angeles public high school students the chance to work in dynamic career areas through paid internships during their summer break. Although 80 percent of the students in Los Angeles live in poverty, research confirms that success has less to do with race and class, than access to equitable opportunities. Skills such as persistence, motivation, problem solving, self-confidence and self-regulation are better predictors of success than standardized test results. These skills are nurtured by internships and these experiences can level the playing field for many students in Los Angeles. Through this unique and customized internship, the Rams are excited to join LA Promise Fund in changing the trajectory of the students' future careers.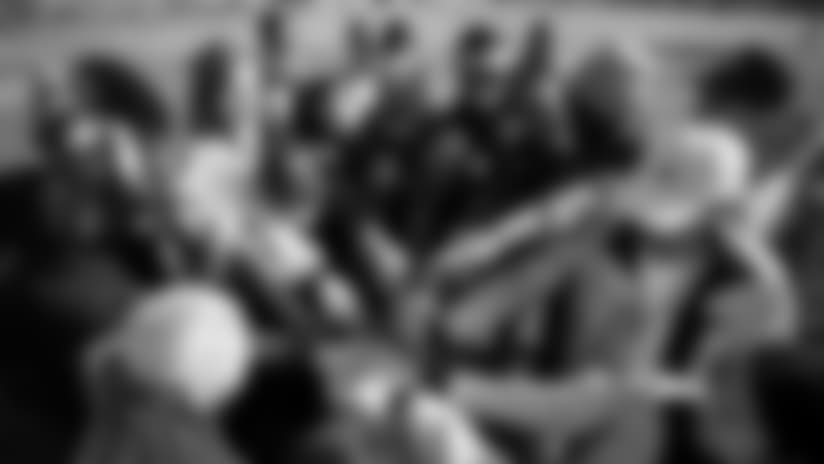 RAMS PARTNER WITH CITY YEAR IN WATTS
In 2017, the Rams kicked off a partnership with City Year Los Angeles to sponsor a team of AmeriCorps members, who are working full-time at Grape Street Elementary in Watts. City Year is an education-based, non-profit that utilizes AmeriCorp members to serve side-by-side with teachers as tutors, mentors and role models to help students in underserved communities succeed in school and stay on track to graduate high school, college, and become career ready. Last season, Rams tackle Andrew Whitworth surprised all 600 students at Grape Street Elementary with new bicycles and helmets for Christmas.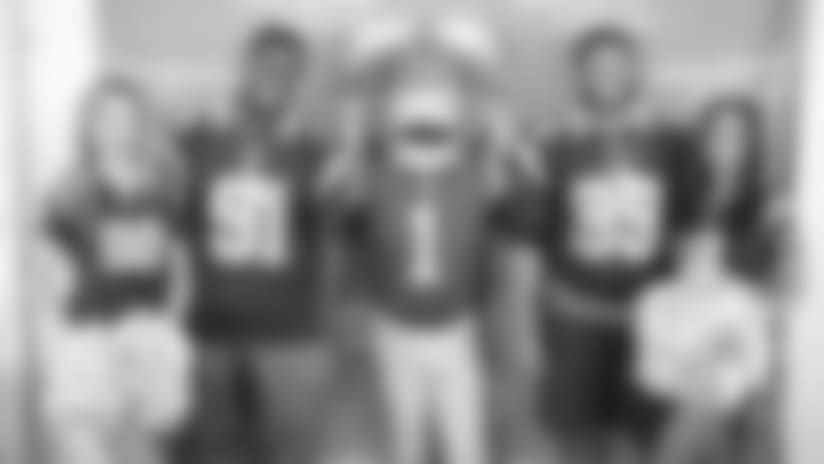 MAKE-A-WISH
The Rams and the Make-A-Wish Foundation have a longstanding partnership dating back to 1995. Over the years, the two organizations have hosted a "Night of Wishes" to raise money to help grant the wishes of children who are battling life-threatening medical conditions. Rams players including Aaron Donald, Dominique Easley, Pharoh Coooper and Mike Thomas have also served as the Grand Marshals for Make-A-Wish Greater LA's Walk for Wishes at the Los Angeles Memorial Coliseum. Throughout the partnership, Rams players and coaches have granted many wishes to children and provided them and their families with unique experience and lasting memories.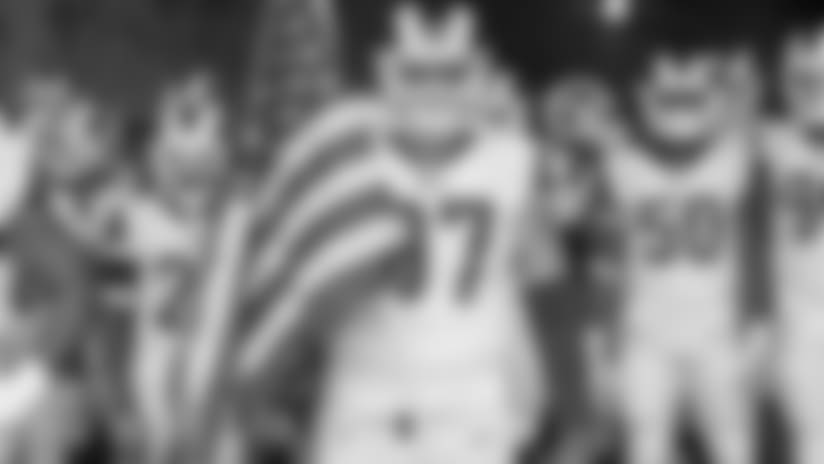 SALUTE TO SERVICE
In appreciation of the military's service to our country, the Rams celebrate military members and veterans throughout the year with a variety of efforts including honoring a military member or veteran during every Rams home game, visiting local military bases to host PLAY 60 Field Days for military families and volunteering with non-profits that support our service men and women.
For the past two seasons, the Rams have partnered with Tragedy Assistance Program for Survivors (TAPS) to honor and recognize fallen service men and women from Southern California who passed while serving in the armed forces or from injuries sustained while serving in the post 9/11 era. The team hosted the families of these fallen service members at a private practice around Veteran's Day where they had the chance to meet the player who wore their family member's initials on his helmet during the team's Salute to Service game. All the families then attended the game and were honored during a pregame ceremony before lighting the Los Angeles Memorial Coliseum Torch prior to kickoff.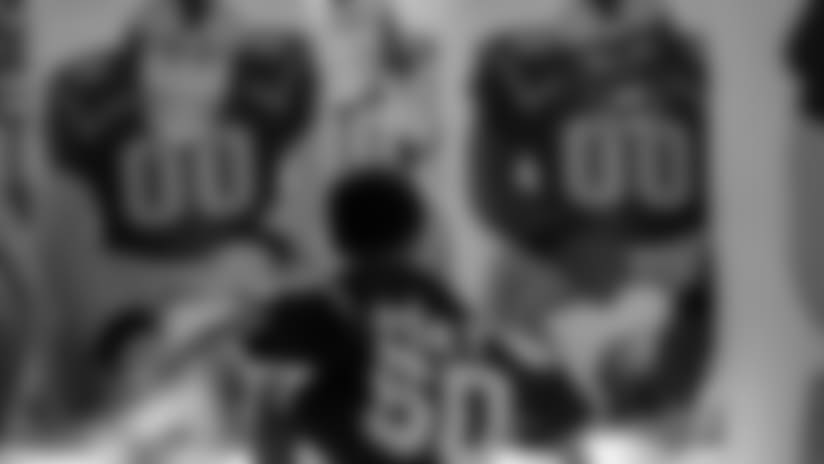 PLAY 60
PLAY 60 is an NFL initiative which aims to create a healthier next generation and tackle childhood obesity by encouraging kids to be active for at least 60 minutes every day. Through the Rams year-long engagement of youth in fitness initiatives with in-school, after-school and team-based programs, the club is committed to expanding this platform and improving health and wellness amongst our local youth. Last season, the Rams reached approximately 20,000 children in the Los Angeles region through a total of 31 PLAY 60 events including weekly school assemblies throughout the region. Since the PLAY 60 initiative was launched in 2007, the NFL has committed more than $325 million to youth health and fitness through programming, grants, and media time for public service announcements.
FUEL UP TO PLAY 60
Created in partnership with the NFL and National Dairy Council, and in collaboration with the U.S. Department of Agriculture, Fuel Up to Play 60 is the nation's largest in-school wellness program creating transformational change in more than 73,000 schools nationwide. The national in-school nutrition and physical-activity program is activated in California by the state's 1,300 dairy farm families. In 2017, the Rams partnered with the California Milk Advisory Board, representing California's dairy farm families, to present Inglewood Unified School District with a $10,000 'Hometown Grant' to support healthy eating and physical activity programs at schools within the district. Representatives from Inglewood Unified and the California Milk Advisory Board were on hand with a Rams player and cheerleaders to present the grant and participate in activity drills with students at Highland Elementary School in Inglewood. Developed by Fuel Up to PLAY 60 and the National Football League, the 'Hometown Grant' program provides teams and farmer-funded dairy organizations the opportunity to identify deserving schools and districts to provide them with funding in order to help meet their health and wellness needs and goals. In 2016, a similar $10,000 Hometown Grant was awarded to LA's Best, an afterschool enrichment program for elementary students in neighborhoods with the highest needs and fewest resources.
NFL PLAY 60 CHARACTER CAMP
Since the team's return to Los Angeles, the Rams, in conjunction with the NFL, have partnered with Hall of Fame offensive tackle Anthony Muñoz to host an NFL PLAY 60 Character Camp at the Los Angeles Memorial Coliseum, playing host to approximately 350 predominantly Hispanic boys and girls ages 9-13 with little or no football experience from local youth organizations each year. The mission of the event is to make a positive impact on youth through teaching football skills, emphasizing exercise, and reinforcing the importance of character in athletics and life. The program works in collaboration with USA Football and its NFL FLAG curriculum, which teaches participants how to be physically active through non-contact, continuous action while learning the fundamentals of football, lessons in teamwork and sportsmanship. In addition, the camps teach character values that are core to the Anthony Muñoz Foundation, as well as promote NFL PLAY 60's health and fitness message. In 2017, Rams' guard Jamon Brown, defensive back Blake Countess, and tackles Rob Havenstein & Andrew Whitworth led youth participants in a variety of fitness stations. Camp participants were also awarded tickets to the Rams' Hispanic Heritage game.
A CRUCIAL CATCH
After nearly a decade of supporting breast cancer, the NFL and the American Cancer Society expanded their efforts to support the fight against all forms of cancer through the Crucial Catch: Intercept Cancer campaign. During last year's Crucial Catch game, twelve Rams players who had a personal connection to cancer wore colored cleats and wristbands representing that specific cancer. In addition to honoring 100 cancer survivors and fighters on the field during the game, the team also partnered with American Cancer Society to fund a free adult health screening at Venice Family Clinic's Irma Colen Health Center in Mar Vista. The event was open to the public.
This year, the American Cancer Society (ACS) and the Rams awarded a $100,000 grant to a local medical clinic to address disparities in breast cancer mortality by providing access to breast cancer screening, follow-up of abnormal mammograms, and timely access to specialty care if needed. The grant funding was made possible through ACS's partnership with the NFL and the league's Crucial Catch campaign.
The grants are the latest in ACS's Community Health Advocates Implementing Nationwide Grants for Empowerment and Equity (CHANGE) program, which provides funding opportunities as part of the ACS's commitment to reduce disparities in cancer mortality. The grants are focused primarily on African American communities, but also target other underserved populations.
Since 2009, the NFL's Crucial Catch has raised more than $18 million in support of ACS. Funding raised since 2012 has supported ACS's CHANGE program and has been invested in underserved communities to increase cancer education and awareness and promote life-saving screening tests. To date, health system grantees have reached more than 632,000 individuals with education, patient reminders and navigation to screening, and contributed to 138,000 breast, cervical and colorectal cancer screenings. These new grants will improve timely access to follow up care along with a continued focus on access to high-quality breast cancer screening for underserved women.
As part of the campaign, the NFL and ACS recently launched a new, digital tool – THE DEFENDER – that provides consumers with personalized tips to reduce their cancer risk. The Defender, funded by the NFL and developed by ACS, analyzes user-input health information to provide individuals with quick, informative and personalized recommendations on how he or she can take action to reduce his or her cancer risk. More than 50% of all cancers can be prevented through simple lifestyle modifications, like avoiding tobacco, sun exposure, staying fit and healthy through proper nutrition and physical activity. The free user-friendly tool allows fans to take control of their health and increase their understanding of how healthy lifestyle habits can help reduce their cancer risk. Fans may access The Defender at TheDefender.cancer.org.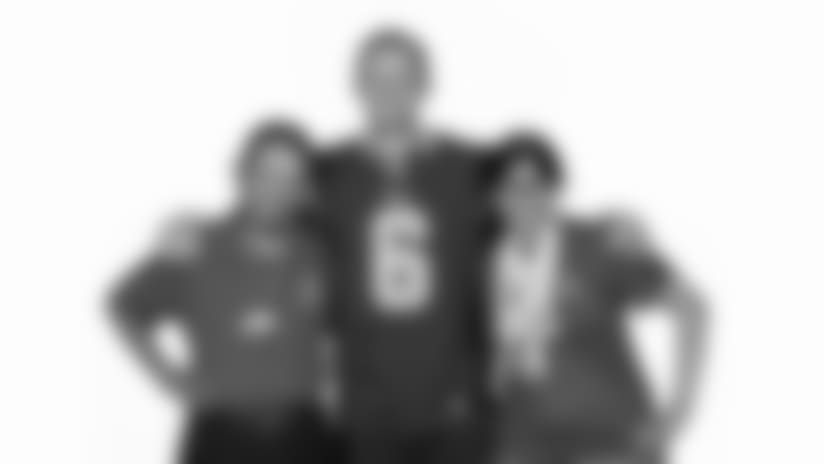 SPECIAL OLYMPICS
Throughout 2017, the Los Angeles Rams teamed up with the Special Olympics of Southern California to host a series of flag football camps known as FUNdamentals camps. The camps provided SOSC athletes with a preview of flag football prior to SOSC introducing the sport in 2018 as part of the Special Olympic Summer Games. Pro Bowl punter Johnny Hekker and the Rams have also supported Special Olympics of Southern California in a variety of ways including an in-store fundraising campaign at all Albertsons, Vons and Pavilions stores located throughout Southern California, which resulted in more than $2.3 million raised for Special Olympics Southern California athletes. Hekker also served as the keynote speaker at the Special Olympics of Southern California Summer Games kickoff breakfast. Additionally, the Rams hosted Special Olympic athletes for a Punt, Pass & Kick competition prior to the team's PLAY 60 game at the Coliseum.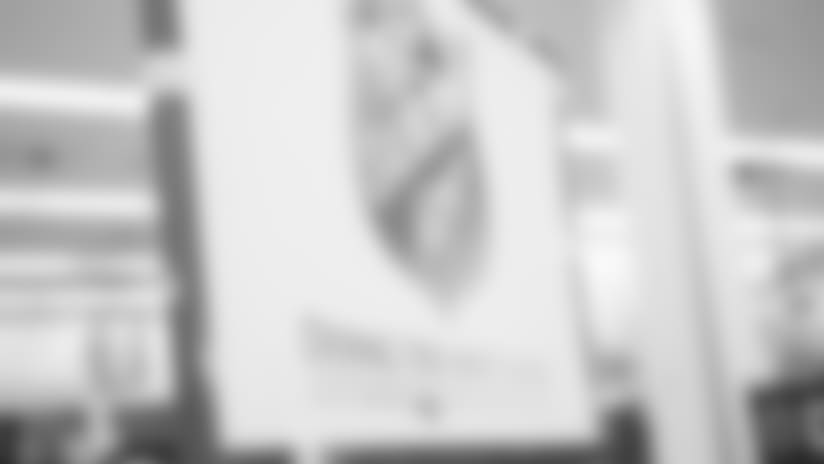 SALVATION ARMY
For the second consecutive season in Los Angeles, the Rams and the Salvation Army teamed up to spread holiday cheer to children in need during the holidays. Through the generosity of players, cheerleaders and staff, the Rams provided 100 kids the opportunity to go on a holiday shopping spree to purchase toys, clothes, and necessities to help make their holidays brighter. Rams players also elected to adopt families identified by the Salvation Army for the holidays and purchased entire holiday wish lists.
#
AMERICAN RED CROSS
In 2012, the Rams and American Red Cross partnered to create a Rams-specific "Holiday Mail for Heroes" campaign. The initiative has resulted in more than 80,000 personalized 'Holiday Thank You' cards being sent to active military serving domestically and overseas. In 2017, Rams defensive tackle Michael Brockers led the effort and was featured on a card that read "Our defense defends our goal line. Our military defends our country. Thank you for your service." Players and staff also paid visits to local elementary schools to invite students to participate in the initiative and thank our service members. Additionally, the Rams have assisted the Red Cross with disaster relief efforts and an awareness campaign on the need for blood donations.
CHARACTER PLAYBOOK
In 2017, the Rams and the United Way of Greater Los Angeles hosted a new virtual classroom experience called Character Playbook LIVE as part of the year two expansion of Character Playbook, a digital character education program powered by digital learning innovator Everfi Inc. and presented by the NFL and United Way. The virtual learning session is part of a league-wide initiative to engage more students in the important conversations of why character matters. Currently, more than 17 schools in the Los Angeles region are using Character Playbook.
CLEATS FOR CHARACTER
In 2017, the Los Angeles Rams introduced Cleats for Character, a program featuring Rams Manager of Community Affairs Johnathan Franklin leading high school football teams in a discussion about goal setting and the values of good character as a student-athlete. Following the discussion, the student-athletes are sized and provided with cleats and/or shoes of their choice previously worn by Rams players. In 2018, the team also took the Cleats for Character program to the Ventura County Youth Detention Center where current players and Rams Legends led table discussions and hosted a football camp.
LOS ANGELES RAMS ACADEMIC CHALLENGE
In 2017, the Los Angeles Rams introduced the Rams Academic Challenge featuring four LAUSD Varsity High School football teams from Crenshaw High School, Eagle Rock High School, Fairfax High School and San Fernando High School. To kick off the challenge, each varsity program submitted their team's cumulative Grade Point Average (GPA) at the beginning of the fall semester in August and participated in a character development session in which the student-athletes discussed the power of choices and goal-setting. Following the session, all participants received a Rams-branded school planner for the academic year. At the end of the Fall semester in December, the four teams re-submitted their cumulative GPA's and San Fernando High School was named the winner of the Rams' inaugural Academic Challenge. Rams Hall of Fame legend Eric Dickerson visited the school to celebrate their accomplishment during a school assembly and awarded them a football equipment grant.
RAMS FREE YOUTH FOOTBALL CAMPS
During the spring of 2018, the Los Angeles Rams partnered with local non-profit organizations and youth football clubs to host free football clinics for nearly 700 LA youth at different locations throughout Southern California. Each clinic engaged youth in football drills, an educational lesson on character and offered competitive flag football games. Participants ranged from grades 2-8 and went home with a Rams-branded Youth Football Camp t-shirt. Participants included youth from LAPD's Pueblo United youth football team, the Watts Bears youth football team led by LAPD officers, Heart of Los Angeles (HOLA), Girls on the Run, Laced Facts, After-School All-Stars of Los Angeles, A Place Called Home an Los Angeles Boys & Girls Club.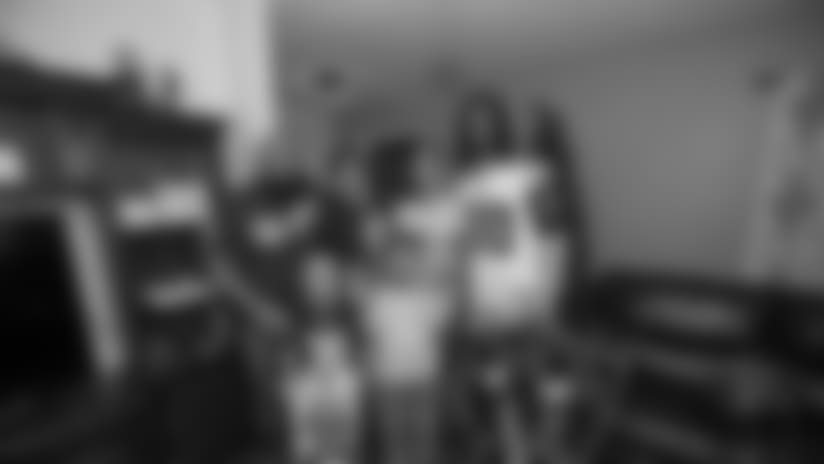 RAMS SURPRISE DIFFERENCE MAKERS WITH TRIPS TO SUPER BOWL LII
During the 2017 NFL season, the Los Angeles Rams gave away five trips to Super Bowl LII in Minneapolis. With these tickets, flights and hotel accommodations, the Rams celebrated Difference Makers, from those making a big impact on communities to passionate fans who make a difference with every cheer, post and high five. This League-wide initiative aimed to recognize NFL fans whose passion, love, and commitment to the game enables progress both on-and-off-the-field.
At the beginning of the 2017 season, a Rams season ticket member contacted the team to inform us about his son, Hector, who was 5 years old and who was battling Stage 3 Hodgkin's Lymphoma. As a diehard Rams and Todd Gurley fan, Hector wasn't able to attend any of the Rams home games because of his illness. On December 19, 2017, Todd visited Hector and his family in Long Beach and surprised him with a trip for two to Super Bowl LII.
On November 2, 2017, the team surprised Staff Sergeant Francisco Chavez on-field with a video message in which Rams defensive tackle Morgan Fox told Chavez he was receiving two tickets and a trip to Super Bowl LII (View surprise here). Staff Sergeant Chavez has served our country for 25 years in both the Marine Corps and the Army, which included two tours in Iraq and Afghanistan. Accompanying Chavez on the trip was his daughter, Laura, and they were joined by his son, Francisco Jr., and newborn granddaughter, Peyton, who Chavez met for the first time in Minneapolis. To cap it all off, Chavez was able to receive a jersey signed by his favorite player, Rams legend Eric Dickerson, and he also connected with a few veterans with whom he served in Iraq and Afghanistan.
On Tuesday, December 19, 2017, Rams guard and Walter Payton Man of the Year nominee Rodger Saffold surprised a "big brother" Travis Van Winkle, and his "little brother" of 6 years, Lyrik of Big Brothers Big Sisters, with a pair of tickets to Super Bowl LII. Van Winkle, an actor and producer who's appeared in films such as Friday the 13th (2009) and Hart of Dixie (2011) and stars on TNT's television series The Last Ship series, has dedicated his life to service working closely with organizations like Big Brothers Big Sisters, where he serves as an adult volunteer who matches with kids facing adversity to provide a professionally supported one-to-one mentoring relationship. (View the surprise here).
As the head coach of Upland High School's varsity football team for the past 22 years, Tim Salter led the 2017 Highlanders to a 12-1 season record and a Southern Section High School Football semi-finals appearance. The Week 6 Rams High School Football Coach of the Week honoree was officially acknowledged as the team's 2017 High School Coach of the year after he was selected by fans through an online voting process. Salter was recognized on December 31, 2017 at the Rams-49ers game, and was awarded a $2,000 grant, Gatorade products, and two tickets to Super Bowl LII as part of the NFL's Super Bowl Ticket Giveaway. Coach Salters attended the game with his son, Patrick, who played wide receiver for Upland High School's 2009 Championship team. (View the surprise here)
On Tuesday, January 2, the Rams selected a Season Ticket Member, Raymond Chavez, to win a trip to Super Bowl LII in Minneapolis. As a lifelong Rams fan, Chavez remembers attending a few games at the Coliseum before he became a season ticket member from 1980-1994, when the Rams played their home games at Anaheim Stadium. After catching word of the Rams return to Los Angeles, Chavez scrambled to put down a deposit for season tickets. He was a season ticket member for the 2017 season and attended many of the games with his family members. His love for the Rams now runs in the Chavez family as his wife, two daughters and newborn grandson are all part of the "RAMily."
In addition to these five giveaways, the Rams worked with the National Football League and Commissioner Roger Goodell to surprise the four LAPD Officers, who started the Watts Bears program, with tickets to Super Bowl LII. (View the surprise here)
Created by LAPD officers from the Southeast Division, the Watts Bears youth football program was created to give underprivileged youth in Watts a chance to play organized sports and to positively change the historically strained relationship between police and the community of Watts. LAPD officers James Holliman, Zarren Thompson, Grant Goosby and Otis Swift serve as coaches for the student-athletes, using sports as a vehicle to introduce, reinforce and promote concepts valued in society such as strong moral character, positive values, personal responsibility and a commitment to academics. The program's mission is to positively change the minds of their youth by challenging, guiding and teaching all their student-athletes to be leaders, not only in Watts, but throughout the world.
For the LAPD officers and Watts Bears coaches, it's not about recognition, but about changing the community and creating opportunities of growth for youth in Watts.