The Rams will wrap up OTAs this week and then turn to mid-June's mini-camp and next month's training camp, which will take the team up and down the coast of California before a hop across the Pacific for the preseason showdown in Hawaii with the Cowboys.
As the offseason rolls on, the voluntary workout periods mean something different for NFL players young and old. For veteran cornerback Aqib Talib, this point in the offseason program provides the chance for his unit to get on the same page — especially considering the new faces of the Los Angeles defense.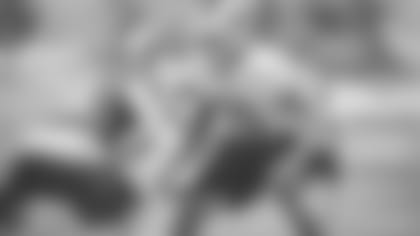 "Same old, same old — just polishing up and playing football, getting back in the swing of things — same old, same old," the 11-year veteran said fresh off the practice field on Monday afternoon before elaborating.
"Just communications, tightening screws on just little stuff — communication, talking to each other."
This offseason, Talib's defense has welcomed rookies who could contribute in year one, like safety Taylor Rapp and defensive tackle Greg Gaines, along with veterans in safety Eric Weddle and linebacker Clay Matthews. As one of the most tenured members of coordinator Wade Phillips' defense, Talib says that while the youngsters adjust to the speed of the game at its highest level, it's important to take this time to sync up on and off the field.
"If you have somebody new like Eric, I think you want to get a good feel for him before it's live bullets," Talib said. "Also just camaraderie. Camaraderie means a lot playing football, so you come to vibe with each other, you get off early, you vibe with each other after work, and get used to talking to each other off the field."
Talib and Weddle alone combine for 23 years of NFL experience and 64 career interceptions. And the pair's tenure and talent has shown up in OTAs as it did on Monday, when Weddle grabbed a tipped pass and took it the other way as Talib and the defense celebrated in support.
Then there's Talib's interest in connecting with Matthews off the field — the chance to learn more about his family's football makeup, which has produced seven NFL players, spanning three generations.
"That guy's got like 13 guys in his family that went to the NFL, so I would be like the dad in his family," Talib said, a father of three. "So I'm trying to see how his dad did them so I can get my nephews and my son — you know, I'm trying to follow that same path."