The Rams chose a running back in the third round of the draft on Friday night.
Now, before you immediately jump to the conclusion that the selection means there's something inherently wrong with star back Todd Gurley, general manager Les Snead and head coach Sean McVay said that's not the case.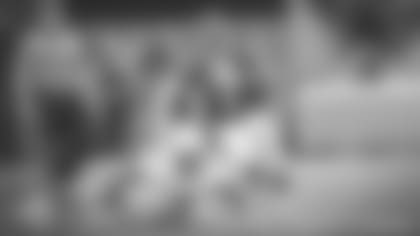 "Being able to add a playmaker is the biggest thing," McVay said. "[W]e had identified him as a guy that has a specific skillset that really can do some unique things for us offensively."
In fact, Snead went back a couple years to McVay's first year as Los Angeles' head coach to point out an example of where the Rams had brought in a player with this kind of role in mind.
"If you go back to when we signed Lance Dunbar, Sean's always felt like his offense would be, let's call it, slightly more explosive when you have a change-of-pace-type running back," Snead said. "So we attempted with Lance Dunbar a couple years ago — his knee didn't work out. We thought about doing it in last year's draft [but] a couple of 'enemies' chose a few of those change-of-pace backs ahead of us. So it's always been something we've been trying to do, obviously, since Sean walked in and felt like it would be a nice complement."
But now 70th overall pick Darrell Henderson is slated for that role within the Rams' offense. McVay and Snead mentioned that Henderson is the type of player who can be split out wide, giving different looks to a defense and adding to the different personnel groupings L.A. may utilize on a week-to-week basis.
"You have so much confidence in the guys — especially our receivers — when you're a heavy 11-personnel team. But one of the things that we've talked about is being able to provide some different personnel groupings so that you still focus on Robert [Woods], Brandin [Cooks], Cooper [Kupp], and the Josh [Reynolds of the world] are big parts of our offense. But you don't want to ask them to play almost every single snap over the course of a 16-game season, and then, hopefully, after that. So being able to give somebody a chance to come in and provide a different threat is exactly what we identified. And he was one of those guys that stood out for us."
Henderson was quite productive at Memphis, averaging 8.9 yards per carry over his last two seasons. In three years there, he rushed 431 times for 3,545 yards (8.2 yards per carry) with 36 touchdowns, along with 63 receptions for 758 yards and eight TDs.
In an interview with therams.com just after the pick, running backs coach Skip Peete noted how Henderson can add to a room that already has Gurley and a high-quality backup in Malcolm Brown.
"When you watch him play he's very explosive, making big plays whether it's run or pass," Peete said. "He makes our room a little bit different with that dynamic and obviously you have Todd that is capable of doing all that stuff, Malcolm is able to do all that stuff. A couple of years ago we inquired about a guy named Lance Dunbar that came in and had a little bit of different style than Malcolm and Todd and that's kind of what this guys possesses. Very explosive, scored a lot of touchdowns, and obviously that's something that you want as a running back."
"The thing that he does do, even though he's a guy that has a smaller stature — just around 200 pounds, 5-foot-8 and a half, 5-foot-9 — he breaks a lot of tackles, runs at a good pad-level, runs with power for a guy that size, and has a canny to for change of direction and balance," Peete continued. "Once he makes contact, shields contact, he has the ability to put his foot back in the ground and accelerate out of that cluster of bodies. So that was something that was very impressive to watch as you watch film on him."
Peete said the Rams brought Henderson in for a top-30 visit, and the running back was just as impressive in person.
"We sat down for about an hour, an hour and a half, and [he's] a very impressive young man," Peete said. "He had great recollection of things we talked about maybe three or four minutes prior and could reiterate that and recite what we talked about with the running game, a play, or whether it was pass protection. He was very impressive in that way."
Before chatting with therams.com, Peete hopped on a call with Gurley to tell the running back about his newest teammate. Time and again quarterback Jared Goff has extolled Gurley as a teammate, and his reaction to hearing about Henderson is another example of why.
"He's always excited about young guys," Peete said of Gurley. "He obviously studies the game, he studies the college players, he knows of them. He said he's watched him before and he's a really exciting player to watch. He wanted to have the ability to call him and talk to him, so I sent him his number, so he's going to give him a holler and say hello and welcome him to the team. Todd's always been good in that way."
So as the Rams move toward the 2019 regular season, Henderson should bring another dynamic to an already strong running backs room.