GLENDALE, Ariz. –How effective was Rams WR Robert Woods against the Cardinals?
He recorded not one, but two career milestones, while tying another in L.A.'s 34-7 win on Sunday, including: A new career high for receiving yards with 173, surpassing 400 career receptions and matching his career high in catches in a single game with 13.
"It feels good, just staying the course," Woods said. "You never know when it's going to happen. It happened this week. It's really just staying in it and being able to stay focused and when the ball comes, make a play."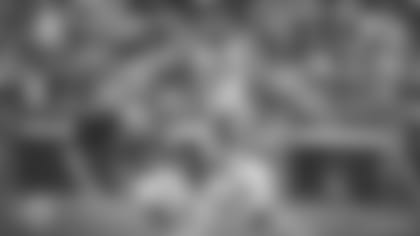 Rams QB Jared Goff ensured Woods would get into a rhythm early on.
On the opening drive alone, Goff targeted Woods on five of his first seven pass attempts. Woods caught four of those targets for 46 yards, helping set up a 27-yard field goal by kicker Greg Zuerlein for game's first points.
"Nothing different than I've seen from him in other games," said Goff, when asked what prompted him to look Woods' way as often as he did at the beginning of the contest. "I think he was just in the zone today, as was I with him. He was able to get himself open a lot and came into my vision a lot. It was great."
Woods has recorded at least five catches and at least 80 receiving yards in four out of Los Angeles' last five games. He had come close to breaking his previous career high in receiving yards once before this season, when he had 164 against the Buccaneers in Week 5. Coincidentally, that was also the game when he first set his new career high for receptions in a single game.
However, this performance perhaps had extra meaning after recently missing a game due to a family matter.
"He's got a great ability to just be able to handle whatever it is, and he is extremely mentally tough," Rams head coach Sean McVay said. "His teammates love him. He's a special human being, and he made some special plays for us today."
One of those included a screen on 3rd and 9 from L.A.'s own 9-yard line. Woods caught the ball on the left side of the field, then reversed course and cut up the right side of the field for a 48-yard gain with Goff throwing a block along the way. That drive ended with a 10-yard touchdown pass from Goff to WR Cooper Kupp.
"I don't know that I've seen a screen where you end up catching it, cut all the way across the green for (48) yards, and then you see your quarterback throwing lead block to really spring it down the right sideline," McVay said. "So a lot of good things for our team today."
Kupp said that scheme and playcalling certainly play a role in performances like this, but a lot of what happened on Sunday was just Woods being Woods.
"He lets the game come to him," Kupp said. "You can just see, he's so explosive, and he made some incredible plays today."
Woods said what paved the way for his individual success on Sunday was coming off the ball well and getting opportunities early on.
"There was a lot of grass to be able to run, I trusted my blockers and Jared (Goff) to put the ball in a catchable spot," Woods said. "I was able to do a lot with it today."